Sale!
FREE Diamond Triangle Square PDF
US$20.00 – Free!
$20 value – FREE shape collection

Plus FREE fabric sample (tab)
Scroll down for the sneak peek video to see what is included!
Plus 3 videos (tab) to give you a fast start

This is where you should start! Everyone can enjoy printing on fabric with an ordinary Inkjet printer and Inklingo. The advantages of precise cutting and sewing lines printed on the fabric are amazing.
Inklingo is the quilting tool we've always wanted.
Description
I always recommend starting with the FREE Diamond Triangle Square shape collection PDF because it includes the first chapter of The Inklingo Handbook (pages H5 – H48) and some great shapes to print on fabric. You should also order the FREE Guided Tour PDF (below).
PDF DOWNLOAD – SHAPE COLLECTION + INSTRUCTIONS 33.5 MB
System Requirements – Windows or Mac with Adobe Reader (not a phone or tablet) and any ordinary color Inkjet printer or all-in-one.
Learn to print on fabric with the free shape collection and you will be ready for any other Inklingo shapes. The steps are the same, so you only need to learn one simple technique to make any quilt.
Sneak Peek at Inklingo
This is your chance to take a peek at the FREE shape collection PDF with diamonds, triangles, and squares before you even open it, so you can print on fabric, shut the computer down, and sew up your next quilt with confidence! NEW February 2023.
Subscribe so you don't miss anything new!
I want to be sure you are ready to join tens of thousands of quilters in more than 65 countries who print shapes on fabric with their Inkjets.
"Today I actually printed on fabric. It is great! My husband is more than surprised that printing on fabric comes out so neat. I'm reading your newsletter/blog and love it." –  Birgitt in Germany
Inklingo is the quilting tool we've always wanted.
Most quilters just need to see their first shapes on fabric to realize that Inklingo is the quilting tool we've always wanted. That's why I want to make it easy for you to print in the next few minutes.
Features of this Shape Collection (PDF) (like all shape collections)

shapes to print on fabric to make LeMoyne Star (4.5 inch) and MANY other designs
diagrams showing how much fabric you need
shapes without seam allowances to print on freezer paper (just in case you want templates)
& More
use a rotary cutter or scissors
includes the first chapter of The Inklingo Handbook on pages H5 to H48 with everything you need to know to start printing
optional "combo" layouts layouts to save fabric and save time when you use one fabric for different shapes
optional layouts for diamonds with different straight grain
precision corners and matching marks to make the sewing easier
ideal for fussy cutting
tips for choosing fabric
shapes fit on Jelly Rolls and small scraps
notes about design variations
a gallery of quilts made with these shapes by Inklingo quilters
how to piece 8-pointed stars by hand and by machine
choice of methods—hand or machine
precision machine sewing tips
illustrated pressing instructions
worksheets to help you plan several variations
About the FREE Diamond Triangle Square Shapes and Sizes
The sizes of these shapes may seem strange—1.32 inch, 1.86 inch, etc—but that is one of the many wonderful advantages of Inklingo. We are not limited to easy-to-measure sizes and "trimming up" afterwards. These shapes are perfect for the 4.5 inch LeMoyne Star in the famous Dear Jane™ (G-8 Justin's Comet) and many other designs (tab).
Everything is easier with Inklingo—no measuring, no templates, no worries about straight grain, a line to cut on, a line to sew on—and the download includes instructions for sewing and pressing, so jump in!
The shapes in this free collection are very versatile. There are other Inklingo shape collections with the same shapes in other sizes.
3 Videos - Intro and How to Print

Video Intro
This short video explains how Inklingo works.

Preparing the fabric sheets and printing
(Clip from Live Video 07 March 2018)

The Guided Tour
This 3-minute video explains how these large Inklingo PDFs are organized.
All Inklingo PDFs are organized the same way, so when you can find your way around one collection of shapes, you understand them all.
What to make first?
There are so many designs you can make with these free shapes! It can be hard to decide what to make first. The important thing is to start!
Perfect for Beginners and Experience Quilters
The shapes are a perfect introduction for beginners.
Make 9-patches, Sawtooth Squares, Hour Glass, and other blocks with these shapes if you aren't ready for an 8-pointed star.
Linda wrote: "I will say that I got great enjoyment making these all by hand and can't wait to get the chance to make more. Inklingo makes it very easy and lots of fun!"
Tilde's Tiny Totes
A FREE Pattern for Inklingo Friends by Tilde Binger, suitable for beginners and experienced Inklingoists.
For use with the FREE shape collection with options for using other collections
Tilde Binger of Copenhagen designed this pattern for anyone wondering what to do with the diamonds, triangles, and squares in the FREE Inklingo shape collection, and it is perfect! You can make one of these great little totes in very little time and become familiar with the features of Inklingo.
List of Inklingo Shape Collections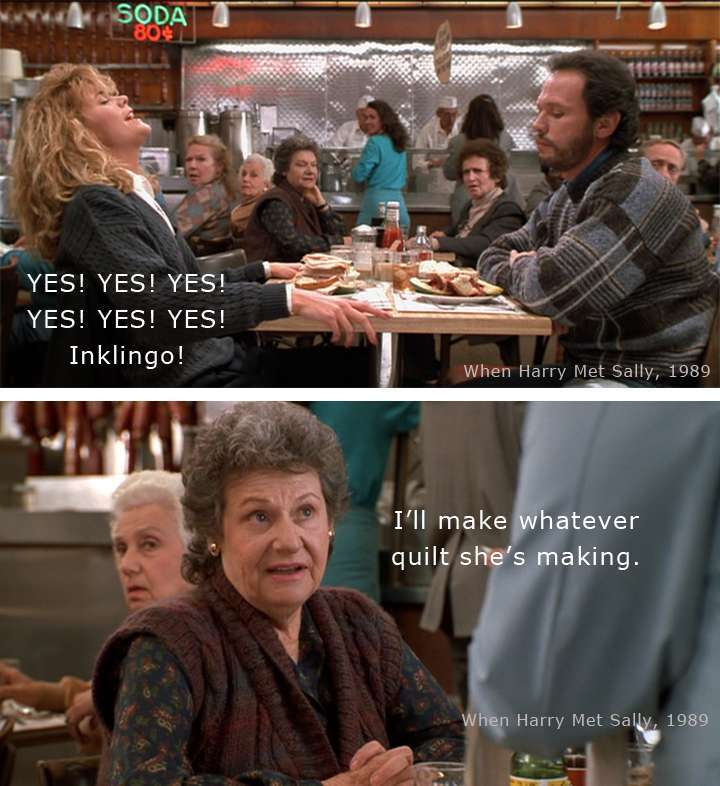 Free Fabric Sample
I'm sending a fabric sample printed with the free shapes to new-to-Inklingo quilters! (USA & Canada only) Please put "free fabric sample' in the comment on your order. Normally, the address is optional on free orders but of course, I need it if you want the fabric sample.
"I am enjoying Inklingo so much so far. There is something about the way this works that appeals. Also, everything is explained so thoroughly. I love this!" – Patty in CA
"I have been printing up inklingo storms and using it to complete quilt tops and convert patterns. It has been fantastic." – Pam M in Australia
"I hate to admit that I sat on my Inklingo purchases until I finally pulled out the fabric sample you included in the book . . . cut it up, and sewed a star together. I'm not sure why I had such a fear factor going on about it, but after I hand sewed the sample, I felt silly about not just 'doing it!'" – JoJo in Oregon
"I have finished my first sample and found the technique very easy and it is the first time I have completed a star of any kind without a botched up centre. Very pleased with Inklingo!" – Glenda in Victoria, Australia
Top Ten Tutes
Two months ago, Shannon in Missouri did not have Adobe Reader on her computer and did not know how to get it.
There is no stopping Shannon!
She needed a little bit of help opening her first downloads but now she can't stop printing shapes for stars!
(Russ says one of the coolest things about using Inklingo is that you also learn other tips for using your computer, like how to download, how to navigate with bookmarks, and how to use print features you didn't even know you had!)
When I asked Shannon for permission to feature her stars online, she wrote, "You may share. I made 5 more today. I think I should seek addiction counseling?? Well maybe later HUH!!"
Top 10 Tutes How to test ink on fabric
Circling Swallows with the free shapes
Circling Swallows is a wonderful traditional quilt design, a variation of 8-pointed star quilt blocks like LeMoyne Star. Print the shapes on fabric with Inklingo instead of using templates.
There is info about printing and sewing Circling Swallows quilt blocks on the blog.
These are fun to sew with Inklingo!
Print, cut, sew!