Do you ♥ "on-point" settings? I do!
There are already two Inklingo "on-point" shape collections and today we added two more!
Now Inklingo has the perfect triangles for
Some quilters avoid on-point settings because they find it tricky to get the triangles the right size with straight grain on the correct edges.
Inklingo does it for you. No math! No measuring!
Inklingo quilters have requested these shapes especially because of the new Inklingo 3 inch Baskets (see below).
The goal is to have straight grain on the edges of the quilt.
That means:
the corners are half square triangles (HST), which have straight grain on the two short sides
the edges are quarter square triangles (QST), which have straight grain on the long side.
Inklingo does the math and measuring. You sew!
In addition to the triangles for the edges, each collection also includes a plain square and a square with an appliqué design—perfect for back-basting.
This flower is in a 5 inch square.
In this example, I combined Inklingo Drunkard's Path 3 inch units with the On-Point Shape Collection for 3 inch Blocks.
Plain squares set off elaborate blocks with appliqué and curved piecing.
Of course, Inklingo Baskets look wonderful turned on point. There are 3 sizes of baskets available and now all of them can be set on point with Inklingo .
My love affair with on-point settings started 15 years ago when I made my variation of the Jane Stickle Quilt using Brenda Papadakis' book Dear Jane™.
With these Shape Collections, you can use any 3, 4.5, 5 or 6 inch squares, like Dear Jane™ blocks, Winding Ways, Yin Yang, Log Cabin, LeMoyne Star, Sunflower, and many others! (Index of Inklingo Shapes)

I have more examples of "on-point" settings to show you, so stay tuned.
$50 INKLINGO GIFT CERTIFICATE
You could win! Leave a comment, not here, but HERE to be in the draw for a $50 Inklingo Gift Certificate. We're celebrating the article about Lucy Boston in the new issue of The Quilt Life.
The winner will be announced on the first day of spring, March 20.
You don't have to wait until spring to start inklingoing because there are FREE shapes too.  Quick Start Guide
ARE YOU SUBSCRIBED?
You can subscribe (top of right sidebar) to receive an email when there is something new on the blog, like more ideas for setting blocks on point.
The two new shape collections are a fabulous deal at $15 but this special low intro price is for a few days only, okay?
We are breaking records for cold temperatures this week. It was 0F (-18C) when I got up this morning. The daily high should be about 37F (3C) at this time of year, but the forecast is for daily highs well below freezing for at least the next week!
Are you tired of the "polar vortex" too? Let's stay home and sew.
Linda & Monkey

New to Inklingo? Order and download free shapes and start sewing in the next few minutes. Quick Start (Always FREE.) There are triangles, diamonds, and squares in the free collection—great for dozens of different blocks.
$10 Coupon!  7 Year Anniversary Special on the handbook
25 Signs YOU are an Inklingo Quilter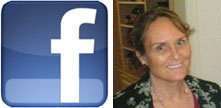 Have you liked the Inklingo FB page yet? If you haven't, please do. Thank you!