The new On-Point shape collections were requested by Inklingo quilters who wanted to turn their blocks for a new look.
Of course, Inklingo Baskets look their best turned on point.
There are 3 sizes of baskets available and thanks to the new shape collections, now all of them can be set on point with Inklingo.
There is a long list of 6 inch blocks you can make with Inklingo on the website.
5 inch blocks are not as common, but a few quilters are making 5 inch Pinwheels with 2.5 inch half square triangles (HST).

Wouldn't this make a great baby quilt? It is an easy design with Inklingo.
Every Pinwheel could be a different fabric.
You can print 4 HST 2.5 inch for each Pinwheel from a scrap about 4 x 7 inches.
There is a choice of triangle layouts, so one or the other will allow you to make the best use of your scraps. (See the Catalogue of Shapes in each shape collection for suggested custom page sizes and yardage requirements.)
PINWHEEL TUTORIAL
You only need to print one of the two fabrics, so Pinwheels are especially fast!
There is a detailed tutorial for making Inklingo Pinwheel blocks in Clue # 3 of Bonnie Hunter's Celtic Solstice Mystery, including video.
With Inklingo, you can set 3, 4.5, 5 or 6 inch squares, like Dear Jane™ blocks, Winding Ways, Yin Yang, Log Cabin, LeMoyne Star, Sunflower, and many others on point! (Index of Inklingo Shapes)

On Point for:
Simple blocks, sophisticated look.
$50 INKLINGO GIFT CERTIFICATE
You could win! Leave a comment, not here, but HERE to be in the draw for a $50 Inklingo Gift Certificate. We're celebrating the article about Lucy Boston in the new issue of The Quilt Life.
Russ says if your computer looks like this one, you probably aren't on Facebook.
The good news is that you don't have to have a Facebook account to see the photos we share on the Inklingo Facebook page and we think some of them will make you laugh.
ARE YOU SUBSCRIBED?
You can subscribe (top of right sidebar) to receive an email when there is something new on the blog. We're working on something special with Bonnie Hunter of Quiltville again, so stay tuned!
The two new shape collections are a fabulous deal at $15 but this special low intro price is for a few days only, okay?
Linda & Monkey

New to Inklingo? Order and download free shapes and start sewing in the next few minutes. Quick Start (Always FREE.) There are triangles, diamonds, and squares in the free collection—great for dozens of different blocks.
$10 Coupon!  7 Year Anniversary Special on the handbook
25 Signs YOU are an Inklingo Quilter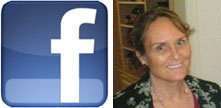 Have you liked the Inklingo FB page yet? If you haven't, please do. Thank you!