Monkey and I have started having fun posting on the Inklingo Facebook page.
I got a slow start on Facebook. I could not get excited about telling you what I have for breakfast every day or other silly details about my daily life.
"Decaf sweetened with chocolate milk # 5." "Cutting freezer paper to a new custom page size!" "Heating up the iron."  LOL
On the other hand, everything I do all day long has something to do with quilting with Inklingo. I live and breathe it.
I often "watch" old movies and DVDs while I am sewing or designing on the computer.
Sometimes I see quilting connections that Russ doesn't notice.
Peter O'Toole & Audrey Hepburn are headed for le Inklingo Boutique de Patchwork after stealing a million. (He doesn't know yet that she's going to spend a million on fabric.)
Sometimes I crack myself up. Blame it on the long hours.
When Diane Keaton breaks into the neighbor's apartment looking for clues in Manhattan Murder Mystery, she finds a great place to store fabric.
(Does anyone else think it is a bit unbelievable that anyone living in a Manhattan apartment wouldn't already be storing their stash—or something else—under the bed?)
Like AND Share You can help spread the word about Inklingo if you  "like" the Inklingo Facebook page and share our quilting inspiration on your pages too. Please click that "share" button! You can also re-pin on Pinterest.  
. . .
NEW TRIANGLE SHAPE COLLECTIONS I have more to say about the new triangles. For now, I'll just mention that the two new shape collections are a fabulous deal at $15 but this special low intro price is only for a few more days.  
$50 INKLINGO GIFT CERTIFICATE You could win! Leave a comment, NOT here, but HERE to be in the draw for a $50 Inklingo Gift Certificate. We're celebrating the article about Lucy Boston in the new issue of The Quilt Life. The winner will be announced on the first day of spring, March 20. You don't have to wait until spring to start inklingoing because there are FREE shapes too.  Quick Start Guide  
ARE YOU SUBSCRIBED? You can subscribe (top of right sidebar) to receive an email when there is something new on the blog, like the on-point setting for pinwheels I drew while watching Audrey and Peter in How to Steal a Million. It's cold outside. It's a good day to stay inside and get to know Inklingo on Facebook, okay? Linda & Monkey

New to Inklingo? Order and download free shapes and start sewing in the next few minutes. Quick Start (Always FREE.) There are triangles, diamonds, and squares in the free collection—great for dozens of different blocks. $10 Coupon!  7 Year Anniversary Special on the handbook Inklingo for Beginners 25 Signs YOU are an Inklingo Quilter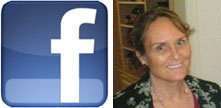 Have you liked the Inklingo FB page yet? If you haven't, please do. Thank you!