If I'm awake, I'm on duty. When anyone is having trouble opening an Inklingo PDF, I stop what I am doing and do my best to help.
When I published the first Inklingo downloads in 2008, it was pretty scary. Would my life would be overtaken by Tech Support?
I chose the most user friendly method of copy protection I could find, but even at that it was surprising how little Tech Support is required.
No matter what I am doing, I stop and answer.
And I don't mind—because there is always a simple answer and I can always help. It gives me a good feeling.
Tech Support comes first. Usually one email is all it takes.
THE TOP 3 TECH SUPPORT ISSUES ARE:
1. Not opening with Adobe Reader.
2. Not opening with Adobe Reader.
3. Not opening with Adobe Reader.
Actually, not opening with Adobe Reader is the top 99 issues out of 100.
Inklingo will not open with Mac Preview or the default PDF viewer that is installed on some Windows 8 computers. That is why Adobe Reader is called a "system requirement." It's free. Easy, eh?
WHO NEEDS HELP?  IT'S SURPRISING!
This might be the opposite of what you would expect.
1. The quilters who have the least trouble opening Inklingo PDFs are those in their 70s and 80s. They did not grow up with computers, so they Read The Instructions.
2. The quilters who have the most trouble opening Inklingo PDFs are the self-identified "geeky types" because they don't Read The Instructions.
3. For other quilters, if all else fails, they Read The Instructions.
The quilters I worry about are the ones who become confused—but who don't ask for help.
Yes, I even answered during Downton Abbey last night! And I really don't mind.
I want every quilter's introduction to Inklingo to be smooth and for everyone to start printing on fabric.
I go into more detail in one of the Top Ten Tutes on the blog: How to Print on Fabric.  (The other Top Ten Tutes are good too.)
I post fresh photos on Facebook every day, so I hope you will Like Inklingo on Facebook and choose Get Notifications.
By the way, just because you have "liked" Inklingo on Facebook does NOT mean you will see my photos in your Newsfeed, so please visit directly when you can.
I love it when you LIKE and SHARE.
TEN THOUSAND LIKES!
More and more quilters are checking Facebook for Inklingo photos, but there are even more Inklingoists who don't. If you have a Facebook account, please join us.
Can you help us zoom through the next milestone of 10,000 likes on the Inklingo FB page?
SUBSCRIBED?
There is some good stuff coming. Please subscribe (top of right sidebar), so you don't miss anything.
If you have questions, please ask. I always answer as quickly as possible and I am happy to help.
Thank you for visiting.
Linda & Monkey

New to Inklingo? Order and download free shapes and start sewing in the next few minutes. There are triangles, diamonds, and squares in the free collection—great for dozens of different blocks. Inklingo for Beginners
$10 Coupon!  8 Year Anniversary Special on the handbook
25 Signs YOU are an Inklingo Quilter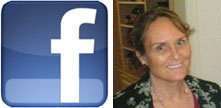 Are you following Inklingo on Facebook?
You don't have to have a Facebook account to see what I post there, but if you do, please check "Get Notificatons" and like and share my photos.