We're excited about Christmas. Can you tell?
QuiltyGal in Mesa AZ is going to have a good Christmas. She is the winner in the draw for the $50 Inklingo Gift Certificate!
What a lovely comment!
I cannot thank you enough for this opportunity!  Your inklingo is saving some of my sanity over the next few days.  Traveling and long flights to come but I'm busy as ever right now printing up my fabrics to take along.  Thank you for everything you do for us!
Congratulations, QuiltyGal! I will email your prize to you tonight. Enjoy!
We tried to ensure that everyone is a winner—even without winning in the draw for the lovely Northcott red and green fabric or the Inklingo Gift Certificate—so the DWR Design Book is free until midnight on December 31.
There is also a free EQ7 project file for Inklingo Christmas Rings. (Electric Quilt Christmas Countdown, details here.)
If you don't have it yet, be sure to order the Double Wedding Ring Design Book while it is free, okay?
Merry Christmas & Happy New Year!
Linda & Monkey
New to Inklingo? Order and download free shapes and start sewing in the next few minutes. Quick Start (Always FREE.) There are triangles, diamonds, and squares in the free collection—great for dozens of different blocks.
$10 Coupon!  8 Year Anniversary Special on the handbook
25 Signs YOU are an Inklingo Quilter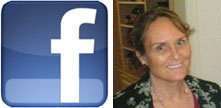 Are you following Inklingo on Facebook?
You don't have to have a Facebook account to see what I post there, but if you do, please check "Get Notificatons" and like and share my photos.