UPDATE MAY 2015
There is a new page on the website with up-to-date info.
This information only affects Inklingo quilters who are in the 28 countries of the European Union.
If circumstances change, this information will be updated.
Thank you for understanding. I am sorry this is necessary.

New to Inklingo? Order and download free shapes and start sewing in the next few minutes. Quick Start (Always FREE.) There are triangles, diamonds, and squares in the free collection—great for dozens of different blocks.
$10 Coupon!  8 Year Anniversary Special on the handbook
25 Signs YOU are an Inklingo Quilter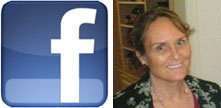 Are you following Inklingo on Facebook?
You don't have to have a Facebook account to see what I post there, but if you do, please check "Get Notificatons" and like and share my photos.