MERRY CHRISTMAS!
Welcome to the Electric Quilt Christmas Countdown on the All About Inklingo blog.
There are FOUR Christmas presents—and everyone gets at least one!
*
ONE . . . FREE EQ7 PROJECT FOR EVERYONE
"Inklingo Christmas Rings" Downloadable Electric Quilt Project File
for Inklingo Double Wedding Ring.
Download from the EQ blog.
TWO . . . FREE INKLINGO DOUBLE WEDDING RING DESIGN BOOK  ($20 value, PDF to download)
If you don't have Electric Quilt (yet), you can still use this gift. We think you will love it.
The Inklingo Double Wedding Ring Design Book is at least a $20 value but it is free for the next two weeks. Merry Christmas!
Normally the design book is free when you buy Inklingo DWR shapes to print on fabric but if you order between now and December 31, you can download the design book free.
Design with a variety of Inklingo arcs!
*
an arc which is all one piece
an arc with one piece plus two arc ends
an arc with 4 pieces plus two arc ends
an arc with 8 pieces plus two arc ends
These blocks are  included in another free EQ7 project file under the EQ tab (above).
NOTE My EQ blocks are adequate for design purposes, but would not be accurate for templates. I use Inklingo to print the shapes on fabric, so I do not worry about ultra-precision when I design in EQ.
The Inklingo Double Wedding Ring Design Book does not include the shapes to print on fabric, but it does include everything you need to know to Design, Print, Cut and Sew a Double Wedding Ring quilt:
notes about all the variations
fabric selection
rotary cutting tips
strategies for fussy cutting
design notes AND how to count the shapes
fabric requirements for many quilt sizes
hand piecing instructions
machine piecing instructions, including my favorite precision tips
detailed, step-by-step assembly instructions
an innovative pressing guide
pressing instructions that might surprise you, but make your quilt look its best
notes about finishing with a straight or curved edge
worksheets
There are sample pages of the design book on the website.
The design book works even if you don't have EQ7. Of course, it is even more fun with EQ.
If you are an Inklingo quilter, you already know how much faster and easier it is to sew Double Wedding Ring with Inklingo than it was in the olden days with templates!
50 designs in only 2 minutes! Click on the video to play.
The shapes for all of the designs in the video can be printed on fabric with Inklingo!
No matter how complicated your EQ DWR design looks, you can get beautiful results with the cutting and stitching lines printed on the fabric with Inklingo.
Confidence. A wonderful thing. Let your artistic vision come to life!
You can sew Double Wedding Ring by hand or by machine or a bit of both.
There are several articles about Double Wedding Ring listed on the Main Double Wedding Ring Page on the website. (This is the blog.)
'
THREE . . . SIXTEEN LUSCIOUS RED & GREEN FAT QUARTERS FROM NORTHCOTT!
Leave a comment on the blog (not Facebook) today or tomorrow to enter to win. Northcott generously provided 16 fat quarters and I will mail anywhere in the world because Inklingo is used in more than 65 countries!
The winner will be announced on Friday, December 19.
  (Click for a larger view)
FOUR . . . $50 INKLINGO GIFT CERTIFICATE
$50 buys a lot of Inklingo! Even the fabulous Double Wedding Ring 12 inch shape collection is only $40. Many others are only $20 or $25.
Leave a comment on the blog (not Facebook) by Sunday, December 21 to enter to win.
The winner will be announced on Monday, December 22.
I post fresh photos on Facebook every day. There is more about Double Wedding Ring to come, so I hope you will Like Inklingo on Facebook and choose Get Notifications.
By the way, just because you have "liked" Inklingo on Facebook does NOT mean you will see my photos in your Newsfeed, so please visit directly when you can. I hope you LIKE and SHARE too.
SUBSCRIBED?
I will be announcing the winners here and there is more good stuff coming soon. Please subscribe (top of right sidebar), so you don't miss anything.
SALE ENDING!
Monkey decided to extend the intro sale price of $15 on Judy Martin's Waltzing Matilda to tonight at midnight, okay? What a softie!
Thank you for visiting during the Electric Quilt Christmas Countdown! Don't forget to leave a comment. Good luck in the draws for the Northcott fabric and the Inklingo Gift Certificate!
Merry Christmas!
Linda & Monkey

New to Inklingo? Order and download free shapes and start sewing in the next few minutes. Quick Start (Always FREE.) There are triangles, diamonds, and squares in the free collection—great for dozens of different blocks.
$10 Coupon!  8 Year Anniversary Special on the handbook
25 Signs YOU are an Inklingo Quilter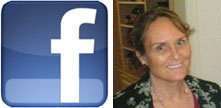 Are you following Inklingo on Facebook?
You don't have to have a Facebook account to see what I post there, but if you do, please check "Get Notificatons" and like and share my photos.