This quilt setting is in the 3 new Inklingo shape collections for Judy Martin's Watzling Matilda.
Even if you are normally a "hand piecing snob,"  I think you will love sewing the new Waltzing Matilda Stars by machine and that makes this design easy to sew.
If you have been following Inklingo on Facebook, you have seen what Cathi wrote about her first Waltzing Matilda!
"I cannot believe how easy it was to sew by machine. That one-page sewing sequence sheet is worth the price of the collection! You have now given me way more confidence about machine piecing than I ever, ever, ever dreamt was possible!"
You can see Cathi's fussy cut Waltzing in Toronto on Quilt Obsession!
PLUS, it is available today as a free EQ7 Project File! (See below.)
(I did not take the time to rotate the striped fabric in the EQ7 file. Any hints? I should really learn how to do that!)
Changing the colors only took a few clicks of the mouse!
Electric Quilt is perfect for playing with color and design.
FREE DOWNLOAD
Judy Martin's Waltzing Matilda with Inklingo – EQ7 Project File to download
If you have EQ7, this layout will give you a start on your own design:
Play with different colors using the Paint brush or Swap tools.
Make the quilt larger or smaller using the layout tab.
With 7 blocks across and 7 down EQ tells you the quilt is 65 x 65 inches with 9 inch blocks and the red border.
See what happens when you change to 6 or 12 inch blocks in the Layout tab, or make the quilt 9 blocks x 9 blocks or 11 blocks by 11 blocks!
Replace some Waltzing Matilda or Waltzing Judy blocks with Castle Wall 9 inch or LeMoyne Star 9 inch. They are included in the Sketchbook for your convenience.
Change the block size (Waltzing Matilda is available in 6, 9, or 12 inch sizes.)
Print the fabric requirements.
NOTE ABOUT FABRIC REQUIREMENTS
EQ will give you an estimate of fabric requirements (above) but you will probably want to count the shapes and compare with the Catalogue of Shapes in the Inklingo shape collection (e.g. page below).
The Inklingo illustrations in the Catalogue of Shapes (above) make it easy to see how much fabric you need.
Electric Quilt uses computer algorithms to estimate the fabric requirements. The EQ algorithm tends to be generous and may not take into account the desired straight grain in the triangles or the direction of the striped fabric.
TIPS FOR COUNTING THE SHAPES (with or without EQ)
Even with only two or three fabrics, counting the pieces required from each fabric can be confusing but it all becomes clear if you cut up a worksheet. This works even for very complicated designs:
1. Make a copy of the worksheet with your design (printed from EQ or from the Inklingo shape collection). Put the original of the design in a safe place. Do not cut it up.
2. Cut the copy of the worksheet into units or blocks.
3. Sort the units into identical piles. (In the sample quilt, some are Waltzing Matilda and some are Waltzing Judy.)
Record the number of each block and the number of each triangle, octagon, and square (one column for each). These two blocks are the Waltzing Judy variation, made with the bonus triangles in each Inkingo shape collection.
Multiply the number of shapes in each fabric by the number of blocks. Record the final count on Monkey's Cheat Sheet.
The hard work is finished! Now look up efficient custom paper sizes and the yardage requirements in the Catalogue of Shapes and record them on Monkey's Cheat Sheet.
BONUS TIP If your design is symmetrical, you can cut one quarter of a worksheet and multiply the totals by four.
I think it takes longer to write out the steps than it does to prepare a Cheat Sheet!
MORE QUILT DESIGNS ON ERIN'S BLOG
If you love seeing new ways to use Inklingo shapes, there are some beautiful designs on Erin's blog at Crooked Path Designs. Erin makes it easy because she includes the info for your Cheat Sheets! You can subscribe to get an email every time Erin adds a new one. Erin is one of my favorite designers.
This is my Merry Christmas version of the quilt! I would love to see what you design in EQ.
SALE ENDING!
Monkey wants to remind you that the intro sale price of $15 ends at midnight tomorrow, okay? Main Waltzing Matilda Page.
SUBSCRIBED?
There is more to say about Judy Martin's Waltzing Matilda! Please subscribe (top of right sidebar), so you don't miss anything good, okay?
Linda & Monkey

New to Inklingo? Order and download free shapes and start sewing in the next few minutes. Quick Start (Always FREE.) There are triangles, diamonds, and squares in the free collection—great for dozens of different blocks.
$10 Coupon!  8 Year Anniversary Special on the handbook
25 Signs YOU are an Inklingo Quilter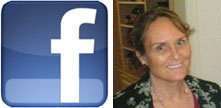 Are you following Inklingo on Facebook?
You don't have to have a Facebook account to see what I post there, but if you do, please check Inkingo on Facebook every day for fresh photos.