New today! Colonial Garden (Beyer 411-10) is ready.
It is an old design, published in the Aunt Martha Series in 1963. The opportunities for fussy cutting make it irresistible.
Print the shapes on fabric with your ordinary Inkjet printer, cut and sew!
It couldn't be simpler!
MACHINE PIECE OR HAND PIECE!
I enjoyed every stitch in Colonial Garden by machine. The seams are long enough that the method I use for sewing the insets for Grandmother's Flower Garden worked perfectly. The VIDEO above shows hexagons, but it works exactly the same way for octagons.
 approx 6.5 x 6.5 inches
BONUS SHAPES

The bonus shapes are perfect if you want to use the Kite and Half Kite for a Dresden Plate variation . . .
. . . or to finish with a straight edge!
One Colonial Garden block is 15.4 x 15.4 inches, finished—a big block.
HEXAGON QUILT DESIGN BOOK
The sewing and pressing instructions for hexagons also apply to octagons, so when you buy Colonial Garden shapes to print on fabric, I also add the Hexagon Quilt Design Book ($20 value, PDF download).
SUBSCRIBED?
I will be adding more articles and quilt designs for Colonial Garden on the blog in the next few weeks. Please subscribe (top of right sidebar), so you don't miss anything, okay?
Colonial Garden is in the Shop now. The special low intro price is a great deal, but only until February 8.
Thank you for visiting.
Linda & Monkey

New to Inklingo? Order and download free shapes and start sewing in the next few minutes. Quick Start (Always FREE.) There are triangles, diamonds, and squares in the free collection—great for dozens of different blocks.
$10 Coupon!  8 Year Anniversary Special on the handbook
25 Signs YOU are an Inklingo Quilter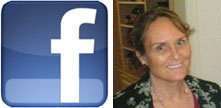 Are you following Inklingo on Facebook?
You don't have to have a Facebook account to see what I post there, but if you do, please check "Get Notificatons" and like and share my photos.