One of the many things I love about Inklingo is that it uses fabric efficiently and avoids waste.

There is a new article on QuiltingHub which explains two features of Inklingo that allow me to see at a glance whether I have enough fabric and how much I need to buy. That is a big advantage for me as a quilter and as a designer.

Fabric Power explains how Combo Layouts and Custom Page Sizes allow you to use your fabric wisely.
For example, you can make two mirror image stars like these—16 diamonds, 8 squares, 8 triangles, by printing TWO sheets of fabric with Combo # 2 in the Free Diamond Triangle Square shape collection.
Very cool!
Combo 2 from the Free Diamond Triangle Square shape collection on one fabric.
Fabric and freezer paper are cut 6.75 x 9.75 for a Custom Page Size.
Combo 2 on a contrasting fabric.
Print, cut, and sew!
There are detailed instructions for sewing and pressing LeMoyne Stars like these in the free shape collection and there is a handy one-page guide on the blog for sewing stars by machine.
It is ironic that quilters who haven't tried Inklingo (yet) sometimes assume that printing on fabric wastes fabric, when in fact, it is often uses less fabric than traditional methods and tools. "No Waste Fussy Cutting" is a good example. That is another article on QuiltingHub.
I share one or two photos on Facebook every day, so please Like Inklingo on Facebook and choose Get Notifications.
https://www.facebook.com/inklingo
You don't have to have a Facebook account to see what I share there, but if you do, I hope you will like, comment on, and share my photos.
SUBSCRIBED?
There is a lot more to show you about the new Colonial Garden shape collection in the next few weeks. Please subscribe (top of right sidebar), so you don't miss anything, okay?
Here are those links again. If you like the articles on QuiltingHub, I would love it if you would log in to "rate" them.
Thank you for visiting here and on QuiltingHub!
Linda & Monkey

New to Inklingo? Order and download free shapes and start sewing in the next few minutes. Quick Start (Always FREE.) There are triangles, diamonds, and squares in the free collection—great for dozens of different blocks.
$10 Coupon!  8 Year Anniversary Special on the handbook
25 Signs YOU are an Inklingo Quilter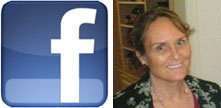 Are you following Inklingo on Facebook?
You don't have to have a Facebook account to see what I post there, but if you do, please check "Get Notificatons" and like and share my photos.