NEW STAR POINTS

You asked for it!
Over a year ago, we added Star Points in two sizes. They were requested by Inklingo quilters who want to make a Texas Star variation designed by Cathi at Quilt Obsession. (Cathi used Inklingo Shape Collection #1, which sold out years ago.)
See Cathi's design in the header of her blog.
That made many Inklingo quilters happy, but others said "Smaller! Smaller!"
So we listened. If you already have Inklingo 60° Hexagon 0.5 inch, this might be just the cat's meow.
PRINT STAR POINTS ON FABRIC WITH INKLINGO
When you print the shapes on fabric, you can rotary cut several layers at a time to start sewing sooner and finish sewing faster than with any other method.
The results will make you happy too, thanks to the precise shapes with perfect straight grain, crosshairs, matching marks, and stitching lines.
Alternate layouts for a choice of straight grain and directional designs.
Use scraps efficiently or buy exactly what you need.
No waste fussy cutting (printing 6 identical sheets of fabric for each star)
Normally Inklingo shapes can be sewn by machine or by hand, but these are too itty bitty to be reasonable by machine, okay?

You can rescue a quilt you started with English Paper Piecing. Finish faster with more precise results!
This is an Add-On shape collection, so you only pay for the shapes you plan to use.
It is up to you whether you use Star Points with hexagons or diamonds or triangles.
When you print shapes with Inklingo, you can relax and be confident that they will fit together perfectly.
A CHOICE OF SIZES
There is also a Star Point on the Inklingo Shape Collection # 3 CD (0.75/1.5 inch).
There are already several articles about Star Points on the blog, so you can download and start sewing right away.
This Pieced Hexagon uses the new Star Point Add-On with 60° Hexagon 0.5 inch and 60° Diamond 1.0 inch.
I wonder how many more Pieced Hexagons you could make with the add-on Star Points and 300 Pieced Hexagons!
I listen to you. Shapes which are requested frequently move up the list quickly. When you request something, please include the size you want, okay? It makes it much easier for me.
Everything I see and do seems to have something to do with quilting, and it shows up on the Inklingo Facebook page.
We have been sharing photos, videos, and updates on Facebook two or three times a day.
If you have not seen them in your timeline, please go to the Inklingo Facebook page and click "Get Notifications" in the drop-down menu under the like button.
We love it when you "like" or even better—"share"—on Facebook.
If you have a FB account, you can post your own photos on the Inklingo Facebook page AND you can share mine on your timeline.
Even if you don't have a Facebook account, you can see anything I post on the Inklingo Facebook page—if you remember to look.
I hope you will join the fun and tap the "share" button too.
ARE YOU SUBSCRIBED?
Facebook is fun but the blog is still the best place for me to teach, so I hope you will subscribe (top of right sidebar).
INTRO PRICE
As usual, the new shapes are at a very special intro price—but for a few days only.
Thank you for visiting here and on Facebook.
Linda & Monkey

New to Inklingo? Order and download free shapes and start sewing in the next few minutes. Quick Start (Always FREE.) There are triangles, diamonds, and squares in the free collection—great for dozens of different blocks.
$10 Coupon!  8 Year Anniversary Special on the handbook
25 Signs YOU are an Inklingo Quilter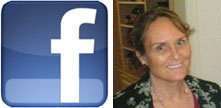 Have you liked the Inklingo FB page yet? AND chosen "Get notifications?"
If you haven't, please do. Thank you!