Monkey says it's often the simple things that make sewing fun.
Wear reading glasses or turn the lights on so you can see without strain.
If you are hand piecing on the go, thread several needles on the spool when your eyes are fresh and the light is good. Then you can take a length of thread with each needle, one at a time. Secure the end of thread on the spool to keep the needles from falling off.
Wear a finger pincushion whether you are sewing by hand or by machine.
WIN A FINGER PINCUSHION!
Monkey has a few extra finger pincushions to give away.
If you leave a comment on the Inklingo Facebook page, before Sunday night at midnight, you could win one of them!
Facebook has been a good way to spread the word about Inklingo. Your comment might inspire someone else to try it for the first time.
NOTE The more comments and shares, the more pincushions we will give away! Sharing will NOT hurt your chances of winning.
I posted a 90 second video about How to Make a Finger Pincushion on the Inklingo Facebook page a few months ago, so even if you aren't one of the lucky winners, you can see how Monkey and I make them.
If you want to see Inklingo in your FB timeline, please go to the Inklingo Facebook page and click "Get Notifications" in the drop-down menu under the like button.
To show Facebook that you are interested in what I post there, please "like" or even better—"share" my photos.
INKLINGO — ANOTHER SIMPLE THING

The Quick Start Guide under the Support & Goodies tab explains the 3 simple things that make Inklingo possible.
We think Inklingo makes sewing more fun too.
REMINDER! SALE ENDING
The two new hexagon shape collections for Lucy Boston Patchwork of the Crosses (POTC) are only $20. After midnight tonight, they will be $25.
REMINDER! EXPANDED VERSIONS
If you have already bought either of the other POTC hexagon shape collections, you can download the new versions any time to get the third layout of hexagons—free!
ARE YOU SUBSCRIBED?
Facebook is fun but the blog is still the best place for me to teach or write longer messages, so I hope you will subscribe (top of right sidebar).
See you on Facebook?
Linda & Monkey

New to Inklingo? Order and download free shapes and start sewing in the next few minutes. Quick Start (Always FREE.) There are triangles, diamonds, and squares in the free collection—great for dozens of different blocks.
$10 Coupon!  8 Year Anniversary Special on the handbook
25 Signs YOU are an Inklingo Quilter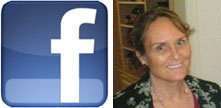 Have you liked the Inklingo FB page yet? AND chosen "Get notifications?"
If you haven't, please