If you have been following Inklingo on Facebook, you have seen some of my fussy cut LeMoyne Stars. They are not "Stack n Whack™" but they give a wonderful kaleidoscope effect.
These are 9 inch blocks. Today there is a new LeMoyne Star 9 inch shape collection!
Quilters started to ask for the 9 inch size when I introduced Inklingo Castle Wall.
In January, I shared a few Castle Wall settings with alternating LeMoyne Stars and we fell in love with the possibilities!
Those settings were already Inklingo-able with 4.5 inch LeMoyne Stars (free shape collection) and 6 inch LeMoyne Stars, but the 9 inch size was missing.
It is ready now!
  NEW
As usual, there is a very low intro price for the first week only. $25 is great value, but $20 is even better.
How can you resist?
These shapes are the perfect size for 9 inch blocks!
BONUS SHAPES!
These three shapes are not used for LeMoyne Stars, but I added them because they combine well with the other shapes to make many more block variations.
At the request of a long-time Inklingo quilter, I have included one layout for the half diamond as an extra-special bonus.
  EXPANDED
EVEN MORE GOOD NEWS!

If you already have LeMoyne Star 6 inch, you can log into your account on inklingo.com and download a new, expanded version! Free!
The LeMoyne Star 6 inch shape collection was first published in February 2009—more than 5 years ago!
While I was working on the 9 inch shape collection, I decided to update it and add the half diamond there too.
Just a little extra something for you. Enjoy!
If you have followed Inklingo on Facebook, you've already seen some photos of our new LeMoyne Star blocks, but there is more to come on the blog too.
This Inklingo "quilting meme" has been shared "shared" 490+ times. Facebook tells me it has been viewed more than 27,000 times since I posted it on Saturday—and that number is still growing!
Thank you! I resisted for a long time, but it turns out that Facebook is a good way to let quilters know about Inklingo.
It just so happens that this meme with a sewing machine is perfect for LeMoyne Star 9 inch because I pieced all of mine by machine.
I will share a one-page guide on the blog soon to show a new method for sewing LeMoyne Stars by machine.
If you want to see what I share on the Inklingo Facebook page in your timeline, please go to the Inklingo FB page and click "Get Notifications" in the drop-down menu under the like button.
The more "likes" and comments and "shares," the more FB thinks I am posting something worthwhile, and the more quilters will see it—an upward spiral.
If you have a FB account, you can post your own photos (POTC? DWR? GFG?) on the Inklingo page AND you can share mine on your timeline.
Are you missing Sundays with Downton Abbey?
I posted this quilting meme on the Inklingo Facebook page yesterday and I have many more "memes" to share. I hope you will join the fun and share on your FB page too.
If you are new to Inklingo, I recommend starting with the FREE Diamond Triangle Square shape collection. so you can print shapes for a 4.5 inch LeMoyne Star.
The free shape collection includes the first chapter of The Inklingo Handbook. With that and the Top Ten Tutes on the blog, you will be an Inklingo expert in no time!
Inklingo—Faster preparation, no measuring, no templates, perfect straight grain, efficient use of fabric, exciting designs.
ARE YOU SUBSCRIBED?
Facebook is great but the blog is still the best place for me to teach, so I hope you will subscribe (top of right sidebar).
There is so much to say about this new shape collection, we will be writing about it for weeks!
Tips for using Inklingo, including the combo layouts
How to sew insets by machine—a new method!
Fussy Cutting with Inklingo
Setting ideas with other sizes and other blocks
Block variations, especially with the bonus shapes
"And more!"
In the meantime, enjoy the new LeMoyne Star 9 inch shape collection!
Thank you for visiting here and on Facebook.
Linda & Monkey

New to Inklingo? Order and download free shapes and start sewing in the next few minutes. Quick Start (Always FREE.) There are triangles, diamonds, and squares in the free collection—great for dozens of different blocks.
$10 Coupon!  8 Year Anniversary Special on the handbook
25 Signs YOU are an Inklingo Quilter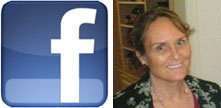 Have you liked the Inklingo FB page yet? AND chosen "Get notifications?"
If you haven't, please do. Thank you!