Today Monkey and I are auditioning 3 fabrics and sharing 4 things to think about.
Yesterday I posted a photo on Facebook showing the fabric I found for the 24 hexagons around each POTC block.
There are 1558 of those "background" POTC hexagons, so this is a big decision!
I could hardly wait to wash the fabric and start sewing! I had already started calling it "Hemingford Grey" after Lucy Boston's ancient manor house.
I think the color is good and I was hoping it would feel better after washing but it wrinkled badly and it is still stiff and paper-y. Now, I don't know whether I really want to use it.
1558 is a lot of hexagons if you don't enjoy the feel of the fabric in your hands and if the quilt will not feel soft and cuddly when it's finished.
I love quilts that drape softly, and this fabric just won't do that.
I tried another grey in my stash. It feels good.
Then I tried this pale yellow flower on white. It feels fabulous.
Do I compromise on the feel because it is a good color? Do I use one of the others?
4 THINGS TO THINK ABOUT
While I was sewing, I had a few thoughts about my POTC blocks and Lucy Boston and Facebook.
ONE  Monkey and I think it is amazing that the ring of hexagons around the center is another 24 hexagons.
24 hexagons in the center.
24 hexagons around it.
HALF of each "block" is the "sashing."
TWO  Lucy Boston did not have the luxury of finding "the perfect fabric." The selection of cotton fabric available in the 1950s and 1960s in England was very limited.
In the whole history of the world, there has never been a better selection of quality fabric available than there is today. We don't have to compromise.
Aren't we lucky?
I'll make a few more trips to friendly quilt shops, where I can feel the fabric before I make a decision.
(Click for larger view.)
THREE  Lucy Boston's only option was English Paper Piecing—slow, slow, slow. I was able to print three fabrics and sew my test hexagons in a matter of minutes.
It would have taken a lot longer to make a test like this with EPP. Would you skip the test and be disappointed later—or end up with a UFO?
FOUR  Electric Quilt taught me something about Facebook on their blog yesterday!
Facebook is trying to make small businesses like ours PAY so you will see what we post!
If you want to see what I share on the Inklingo Facebook page in your timeline, now you have to go back to the Inklingo FB page and separately click "Get Notifications" in the drop-down menu under the like button.
"Liking" the page is not enough anymore!
If quilters don't choose "get notifications," fewer and fewer will see my FB photos and that starts a downward spiral. If FB notices that what I post does not get comments and "likes" and "shares" then it reduces the number of people who see it.
On the other hand, the more "likes" and comments and "shares," the more FB thinks I am posting something worthwhile, and the more quilters will see it—an upward spiral.
If you're not seeing what you want to see on FB, this is probably the reason.
You can get in on the fun.
If you have a FB account, you can post your own photos (POTC? DWR? GFG?) or share mine on your timeline.
If you have any tips for using Facebook effectively, I would love to hear them!
ARE YOU SUBSCRIBED?
You can subscribe to the blog (top of right sidebar) to receive an email when there is something new.
Facebook is for fun and so more quilters hear about Inklingo but the blog is the best place for me to share tutorials and longer articles and the blog is searchable, so you can find many more articles of you type in Lucy, fussy, POTC, EPP or something else.
I can hardly wait to find the perfect fabric! In the meantime, I'll keep sewing my fussy cut hexagons together, confident that my dream fabric is out there somewhere.
When I do find it, I'll probably take a quick photo and get it on FB first, okay?
Thank you for visiting!
Linda & Monkey

New to Inklingo? Order and download free shapes and start sewing in the next few minutes. Quick Start (Always FREE.) There are triangles, diamonds, and squares in the free collection—great for dozens of different blocks.
$10 Coupon!  8 Year Anniversary Special on the handbook
25 Signs YOU are an Inklingo Quilter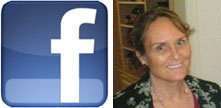 Have you liked the Inklingo FB page yet? AND chosen "Get notifications?"
If you haven't, please do. Thank you!