Monkey and I have been posting "quilting memes" on the Inklingo Facebook page. At least, I think that's what they are called. (Please correct me if I am wrong.)
I was mentally cutting up those draperies—under the influence of the spirit of Lucy Boston.
I have stacks of oldies but goodies on DVD. I listen when I am working or sewing.
Everything seems to have a connection to quilting.
I posted this one on the Inklingo Facebook page yesterday. I post 3 or 4 times a day.
The Inklingo Yahoo Group has been around since 2006 and it is still a great place to meet and share Inklingo experiences but it has not been growing. Quilters don't seem to love Yahoo as much as they used to.
All the action seems to be shifting to Facebook.
Inklingo Hexagons (No Waste Fussy Cutting) 
Monkey and I resisted Facebook for a long time, but it has become a lot of fun.
It is fast and easy for me to share photos on Facebook. Yahoo is not as convenient and only members can see the photos.
There are also more quilters who "like" Inklingo on FB than there are quilters in the Inklingo Yahoo Group!
I can finish one of these hexagon flowers every 15 minutes, take a photo, and have it on Facebook before my needle cools off.
If you are one of the quilters who has resisted opening a Facebook account for one reason or another, the spontaneity is what you are missing.
I think the small number of "likes" on the Inklingo Facebook page is because I personally resisted Facebook for so long.
Only a small number of the quilters who use Inklingo have liked the Facebook page OR joined Yahoo.
IF YOU HAVE A FACEBOOK ACCOUNT
You can:
IF YOU DON'T HAVE A FACEBOOK ACCOUNT
You can still see everything we post on Facebook!
You are NOT excluded, but you cannot "like" the page or leave comments.
You might want to open a Facebook account with very limited info about yourself if you are concerned about privacy, so you can be part of the scene without any risk.
$50 INKLINGO GIFT CERTIFICATE
You could win! Leave a comment, NOT here, but HERE to be in the draw for a $50 Inklingo Gift Certificate. We're celebrating the article about Lucy Boston in the new issue of The Quilt Life.
Time is running out. The winner will be announced on the first day of spring, March 20—one week from today!
ARE YOU SUBSCRIBED?
You can subscribe to the blog (top of right sidebar) to receive an email when there is something new. The blog is still the best place for me to share tutorials and longer articles.
Monkey and I are NOT abandoning Yahoo, but we love how fast and easy to share photos on Facebook, on the fly.
There was another very heavy snowfall yesterday. That's on top of the deep snow everywhere! You can see photos on the Inklingo Facebook page, okay?
Linda & Monkey

New to Inklingo? Order and download free shapes and start sewing in the next few minutes. Quick Start (Always FREE.) There are triangles, diamonds, and squares in the free collection—great for dozens of different blocks.
$10 Coupon!  7 Year Anniversary Special on the handbook
25 Signs YOU are an Inklingo Quilter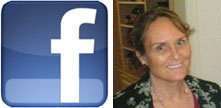 Have you liked the Inklingo FB page yet? If you haven't, please do. Thank you!