Monkey and I have written about fussy cutting many times before. (The All About Inklingo blog is searchable. Try this and this first.)
NO WASTE FUSSY CUTTING
"No Waste Fussy Cutting" with Inklingo is the easiest and most exciting method.
Some quilters compare it to Stack n Whack™—but with Inklingo there is no stacking and you can "whack" with a rotary cutter OR scissors, and you can sew by hand OR by machine.
WHAT IS NO WASTE FUSSY CUTTING?
The idea is simple!
Print whatever shapes you need on identical sheets of fabric.
Monkey says that might be the only clue you need. If so, stop reading and start printing 1 inch 90° Hexagons for your Lucy Boston Patchwork of the Crosses!
The method is that simple.
1. Identify the "repeat" in the fabric along the selvage edge.
In this case, it is about 8 inches.
I need to know this, so I can find and print identical sheets.
The Suggested Custom Page Size for sixteen POTC hexagons is 8.25 x 12.5 inches. How do I know? There are suggested custom page sizes illustrated in the shape collection and I can make up my own too.
a. If the repeat is a little more than the size of the FP:
I use my normal method of preparing fabric sheets (making sure they are identical, video below) and cut the fabric with scissors at the ironing board when I iron the freezer paper. (Print on Fabric – Best Tips in the Top Ten Tutes)
b. If the repeat is ever-so-slightly narrower than the size of the FP:
This is a little more work but it makes very efficient use of the fabric. In this case, I rotary cut the identical fabric sheets separately and then line them up with the freezer paper at the ironing board.
In scenario b, the fabric is a little bit smaller than the FP, but that's fine because Inklingo layouts allow margins of 0.25 on the top and sides and 0.5 inch on the bottom.
2. Cut and print identical sheets of fabric.
First, I remove the selvage and then rotary cut a strip 12.25 inches wide and cut it into 8 identical pieces of fabric (above).
IMPORTANT! Label the FP to ensure you always put the same end of the fabric in the printer first! We want everything to be printed identically.
Print 4 or 8 identical sheets for POTC.
For six pointed stars, print 6 identical sheets.
For eight-pointed stars, print 8 identical sheets.
(You can do this with the FREE Diamond Triangle Square shape collection!)
If you stop and think about it, you will see that you need one sheet for each shape.
WHICH FABRIC?
The "rules" for picking fabrics are similar to Stack n Whack.™
Overall designs like this paisley are fabulous! It has very little "background."
You can print a page of Inklingo hexagons on paper to make a window template to take to the quilt shop for a preview. You can also measure the repeat to see how many lengths you will need.
In the case of this paisley fabric, if the repeat had been 12 or 24 inches, it would have worked really well for POTC hexagons too.  (12 inches seems to be a common repeat.)
TIP  Sometimes the "uglies" in the sales bin are the best!  If you cut the designs into small enough pieces, they can create surprisingly beautiful effects.
The video on the Main Lucy Boston Page describes several fussy cutting strategies and how to choose the best fabrics.
It also gives tips for cutting several layers at a time, so you get sets identical hexagons, all organized and ready to sew.
This is one of my favorite fussy cut hexagon flowers but I don't think I could have seen the exciting effect where the hexagons meet if I had been using old-fashioned template methods of fussy cutting. And even if I could (fiddling around with folding mirrors?), it would have wasted a lot of fabric.
The "no waste" method is the simplest and the most fun.
Each block is a little surprise.
WHAT ABOUT THE SUPPORTING FABRICS?
There are 24 hexagons in each POTC block.
Usually only 4 or 8 are identical (fussy cut). The other hexagons can be printed even more quickly and easily using our normal method.  Print on Fabric – Best Tips in the Top Ten Tutes.
There are several videos showing how to hand piece Kaleidoscope Stars and hexagons by hand and by machine. It works exactly the same way for Lucy Boston POTC.
There is more about fussy cutting in the POTC book and on the blog (searchable), but if you have any questions, please ask.
Good luck in your hunt for the perfect fabrics!
Are you in on the fun?
Monkey and I have been creating "quilting memes" like this one for the Inklingo Facebook page. (At least, I think that's what they are called. Please correct me if I am wrong.)
Everything I see and do seems to have a connection to quilting.
I often "watch" DVDs while I am sewing or working, and this Miss Marple (Joan Hickson) is a favorite.
Monkey and I resisted Facebook for a long time, but it has become a fun place to share things spontaneously 3 or 4 times a day. We hope you will join us there.
IF YOU HAVE A FACEBOOK ACCOUNT
You can:
LIKE the Inklingo Facebook page. (Please do!)
Add it to your Newsfeed.
Share my Inklingo photos with your friends. (Please do!)
Post your photos on the Inklingo Facebook page.
And watch today!—keep track of deliveries at our house.
(Intrigued?)
IF YOU DON'T HAVE A FACEBOOK ACCOUNT
You can still see everything we post on Facebook!
You are NOT excluded, but you cannot "like" the page or leave comments.
You might want to open a Facebook account with limited info about yourself if you are concerned about privacy, so you can be part of the scene without any risk.
$50 INKLINGO GIFT CERTIFICATE
Time is running out!
Someone will win on Thursday! Leave a comment, NOT here, but HERE to be in the draw for a $50 Inklingo Gift Certificate. We're celebrating the article about Lucy Boston in the new issue of The Quilt Life.
The winner will be announced on the first day of spring, March 20—and today is the 18th.
ARE YOU SUBSCRIBED?
You can subscribe to the blog (top of right sidebar) to receive an email when there is something new. The blog is the best place for me to share tutorials and longer articles. Inklingo on Facebook is more spontaneous.
The sun is shining and it is finally above freezing, which is a good thing because I have reason to be in the garage today.  The seasonal high should be about 5 C (41F), but the forecast is for it to stay cold. Overnight lows in the mid-teens (-15 C).
You can see more photos on the Inklingo Facebook page, okay?
Linda & Monkey

New to Inklingo? Order and download free shapes and start sewing in the next few minutes. Quick Start (Always FREE.) There are triangles, diamonds, and squares in the free collection—great for dozens of different blocks.
$10 Coupon!  8 Year Anniversary Special on the handbook
25 Signs YOU are an Inklingo Quilter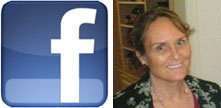 Have you liked the Inklingo FB page yet? If you haven't, please do. Thank you!