Lucy Boston is irresistible! We predict that you will not be able resist either.
Russ claimed the remote last night for hockey and basketball.
I binged on Meg Ryan in When Harry Met Sally and French Kiss and sewed 3 POTC blocks—and started a fourth—before Le Baiser Français a été fini.
Thanks to Inklingo, I did not have to baste or whip-stitch.
Whip-stitching is too hard on my hands and I don't want any stitches showing on the front.
I love the way the blocks press when they are sewn by hand with a running stitch.
There is just a tiny amount of ink. I could have drawn the lines with a mechanical pencil the way I did for Quilted Diamonds, but the lines would not be as fine or precise and it would leave lead in the quilt that does not wash out.
Some quilters are sewing these seams from crosshair to crosshair by machine, but I love a portable project.
It takes less time to press blocks sewn this way than it would to remove EPP templates —and the bulk is distributed perfectly around the intersections.
Are you in on the fun?
Monkey and I have been creating "quilting memes" like this one for the Inklingo Facebook page. Everything I see and do seems to have a connection to quilting.
IF YOU HAVE A FACEBOOK ACCOUNT
You can post your own photos or share mine on your timeline.
If you don't have a Facebook account, you can still see everything we post on the Inklingo FB page, okay?
ARE YOU SUBSCRIBED?
You can subscribe to the blog (top of right sidebar) to receive an email when there is something new. The blog is the best place for me to share tutorials and longer articles and it is searchable, so you can find many more articles of you type in Lucy, fussy, POTC, EPP or something else.
It is another unseasonably cold day here but the sun is shining. There is no snow in the forecast, but there are more POTC blocks (and March Madness) in the domestic forecast.
The POTC block I am sewing is always my favorite. Irresistible. I predict the first one will be your favorite. Yes?
Linda & Monkey

New to Inklingo? Order and download free shapes and start sewing in the next few minutes. Quick Start (Always FREE.) There are triangles, diamonds, and squares in the free collection—great for dozens of different blocks.
$10 Coupon!  8 Year Anniversary Special on the handbook
25 Signs YOU are an Inklingo Quilter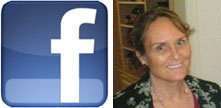 Have you liked the Inklingo FB page yet? If you haven't, please do. Thank you!