Kathy in Nashville made this wonderful quilt top with Inklingo Castle Wall blocks and Inklingo LeMoyne Stars.
Isn't it fabulous?
Kathy is an artist. She creates beautiful designs with fabric.
She has used Inklingo from the very beginning (2006).
Printing on fabric (below) with her ordinary Inkjet printer allows Kathy to bring her designs to life.
Isn't this a brilliant corner design?
In addition to Castle Wall blocks, there are two sizes of LeMoyne Star in the quilt. The small stars are 4.5 inches and were made with the free Diamond Triangle Square shape collection.
LeMoyne Stars 9 inch, on point, for the center. Wow!
Every star is a little gem.
Behold the masterful touch of the Queen of Fussy Cutting!
You can see more of Kathy's beautiful blocks on Flickr. We have featured her quilts on the blog before too. Search for Kathy (search box above).
This block is made with shapes in the Castle Wall shape collection too.
Every detail of this design is perfect, don't you think?
Kathy needed 8 triangles to get the kaleidoscope effect in the octagons for Castle Wall.
I am very happy that I included this bonus shape in the Castle Wall 9 inch shape collection —especially when I see how artfully Kathy used it!
Find the repeat in the fabric and print 8 identical sheets of fabric to get 8 sets of 8 identical triangles.
There are lessons on the blog and also info about No Waste Fussy Cutting in a new article on QuiltingHub.
This particular quilt is entirely hand pieced, but you can sew 8 pointed stars by machine too.
Thank you, Kathy, for your permission to feature your quilt here. You are an inspiration!
ARE YOU SUBSCRIBED?
Please subscribe (top of right sidebar), so you don't miss anything.
Thank you for visiting!
Linda & Monkey

New to Inklingo? Order and download free shapes and start sewing in the next few minutes. Quick Start (Always FREE.) There are triangles, diamonds, and squares in the free collection—great for dozens of different blocks.
$10 Coupon!  8 Year Anniversary Special on the handbook
25 Signs YOU are an Inklingo Quilter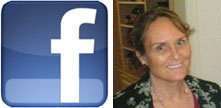 You do NOT have to have a Facebook account to see what I post on the Inklingo Facebook page.
If you do have a FB account, please like my page and choose "Get Notifications" or Facebook will make me pay to show you what I post.
Facebook only shows my photos to about 35% of the quilters who have liked the page unless I agree to pay.
Thank you for subscribing to the blog!