UPDATE Jan 15, 2022 Also see the Cleopatra's Fan Top 10.
While we were waiting to publish the new Cleopatra's Fan Quilt shape collections, we shared a few designs like this one on Facebook.
(You're missing out if you don't check Inklingo on Facebook every few days at least! You don't have to have a FB account to see what I share there.)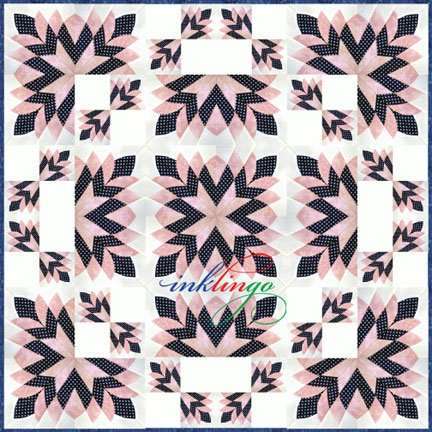 The BIG news is that in addition to the 3 new shape collections, there is a new Inklingo design book—and it is FREE for a limited time!
The Cleopatra's Fan Quilt Design Book includes a 66 page Gallery of Quilts (pages 11-77) and dozens of worksheets.

This example uses only 3 fabrics.
Thanks to Inklingo's "combo" layouts (optional), you can print all 20 shapes for one block on only 3 sheets of fabric. Wow.
(For 4.5-inch blocks, you can print 60 shapes for THREE blocks on only 3 sheets of fabric with your ordinary Inkjet printer! <gasp>)

There are also examples with 4 fabrics, so 4 sheets of fabric!
For 6-inch blocks, you can print 60 shapes for THREE blocks on only 4 sheets of fabric. With. your. ordinary. Inkjet. printer!
SEW BY HAND OR BY MACHINE (OR BOTH)
In addition to the quilt ideas, the Design Book includes detailed, illustrated instructions for cutting the shapes, sewing sequence, and sewing instructions!
And it's FREE!
I think you might be amazed by how simple it is to design and sew these blocks with Inklingo. Even I was surprised when I started sewing.
The printing and sewing go so fast, you can afford to spend a little time perfecting the design and still finish a stunning quilt faster than you could with any other method!
ARE YOU SUBSCRIBED?
If you subscribe to the blog (top of right sidebar), you will be the first to see the next news about Cleopatra's Fan. There is more to come!
If printing on fabric is new to you, you might want to see this video Introduction to Inklingo. It explains the three key ideas that make Inklingo work.
Please share my videos on your blogs and Facebook and please tell your friends about Inklingo!
THE LINKS!
This article is just a quick overview. There is much more on the website.
More to come. Thank you for visiting!
Linda & Monkey