"She stepped boldly forward, carelessly humming a tune."
(Northanger Abbey, Ch 21)
The full title of the book is Quilted Diamonds 2 – more Austen-tatious diamonds to hand piece.
Yes, it all started with Jane Austen.
The first 3 diamonds in Quilted Diamonds 2 (QD2) are the ones I teach in the two-hour DVD lesson that is included with every copy of the book.
"She stepped boldly forward" (above) is always a favorite but there are 100 more! (And another 180 designs in QD1, just in case.)
This is not one of the first three diamonds in the book (it's # 4), but the DVD lesson teaches you everything you need to know to make this one too.
Miss Elizabeth's Star (above) is named for Miss Elizabeth Bennet—of Pride & Prejudice, of course. It was always the first diamond I taught when I was traveling to teach.
In only three diamonds, you can learn everything you need to know about inset seams, continuous stitching, curved seams, "circling the intersection," pressing, and more!
The 2-hour lesson on the DVD is like taking a private lesson with me.
The hand piecing lesson applies to ANY blocks or designs—Passacaglia, Grandmother's Flower Garden, Pieced Hexagons, anything—so you'll want it even if you don't intend to sew any diamonds.
Hand piecing with a running stitch is a simpler, faster, more precise, and more portable option than English Paper Piecing! (English Paper Piecing Rescue)
If you need more convincing, Cathi at Quilt Obsession wrote a wonderful review of Quilted Diamonds 2.
Cathi and I met in person when QD2 was brand new and we have been friends ever since. She says she learned to love hand piecing because of QD2.
The new Inklingo shape collection for QD includes a "bonus triangle" so you can turn hand pieced diamonds into squares—by machine!
If you have a box of beautiful diamonds that you made with QD1 or QD2, it is easier than ever to assemble a quilt top, like Love & Friendship! Print the sashing and cornerstone shapes on fabric with Inklingo instead of using templates and drawing the stitching lines manually. Precise, simple, fast.
Quilted Diamonds is "pre-Inklingo" and I was so closely associated with hand piecing and small diamonds that some quilters thought Inklingo was only for hand piecing!
Please, don't be confused! Inklingo is fabulous for machine piecing and appliqué too!
I will be very sorry if Quilted Diamonds 2 makes you think that Inklingo is just for hand piecers!
A SECRET ABOUT THE COVERS
Preparing Quilted Diamonds 2 books for mailing is a wonderful trip down memory lane for me. It has been several years since there have been any books to mail!
One dear friend (also a publisher) "got it" immediately when she saw the covers. The diamonds on the front are shown from the back on the back of the book.
I did the same thing for the labels! The diamond on the front of the QD2 CD for EQ is shown from the back on the QD2 DVD.
This is one of the perks of publishing your own books—you design your own cover too.
You might be surprised how many authors are disappointed with the title or the cover design that the publisher chooses. I always assumed that the author would have final approval of the cover design, but it is not the case! I have met a few quilt book authors who have been very unhappy with the covers chosen by their publishers. I still love the cover of QD2.
THE MAIN QUILTED DIAMONDS PAGE IN THE SHOP NOW
1. NEW  INKQD Inklingo for QD (PDF, shape collection to download) $20 (on sale for $15 for a limited time)
2. QD1 book (with or without the EQ CD)
3. QD2 book (with or without the EQ CD)
If you order both books at the same time, you save on postage. (Note below.)
SHIPPING UPDATE
It has been a marathon effort, but all of the orders for Quilted Diamonds 2 placed since the announcement on Sunday have been mailed already EXCEPT the ones which are being mailed with Millefiori 2 from Quiltmania. The shipment of books from France is still tracking to be delivered to the warehouse tomorrow, and if FedEx comes through, all of the orders will be caught up by the weekend—or Tuesday at the latest.
Russ says he will visit the Post Office in Niagara Falls NY every day, if that's what it takes!
POSTAGE
I can fit two books (Quilted Diamonds or Millefiori) in the flat rate Priority and Global Priority envelopes through USPS.
Unfortunately, Canada Post restricts the thickness of flat rate Xpresspost envelopes, so if you order two books, postage from the USA to Canada usually costs less. I look at every order individually and provide the least expensive option.
There is never a "handling fee" and I refund the difference if there is an option which costs less than the postage added by the website.
I cannot fit THREE books in the flat rate envelope, so please email me for options if that is what you want.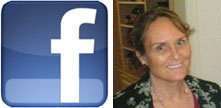 ARE YOU SUBSCRIBED?
I will be sharing more photos on the Inklingo Facebook page too, but Facebook only shows my photos to about 20% of the quilters who have "liked" the page, so the best way to stay up to date is to subscribe to the blog (top of right sidebar).
If you are on Facebook, please "like" and "comment" and "share" my photos. I want everyone to know that QD2 is back, so I don't have to carry all of these boxes of diamonds into the basement, okay?
Thank you for visiting!
Linda & Monkey

New to Inklingo? Order and download free shapes and start sewing in the next few minutes. Quick Start (Always FREE.) There are triangles, diamonds, and squares in the free collection—great for dozens of different blocks.
$10 Coupon!  8 Year Anniversary Special on the handbook
25 Signs YOU are an Inklingo Quilter