We are very lucky to be quilters in the twenty-first century! We are inspired by quilters all over the world. There are no boundaries.
Willyne Hammerstein, who was born and lives in The Netherlands, named her book Millefiori which is Italian for a thousand flowers. She was inspired by the tiling designs of an English mathematician and the book was published by Quiltmania in France, in English and French. Then it was shipped across the Atlantic, so I can mail it from the United States of America (Niagara Falls NY) to you­—wherever you are in the world.
Not only that, but soon you will be able to order and download Inklingo shapes for the cover quilt from my site in Canada. Exciting!
Quilters requested Inklingo shapes to print on fabric for The Passacaglia and I am very grateful that Willyne Hammerstein and Carol Veillon at Quiltmania agreed. (They may have been influenced by a quilter in Singapore.) The shape collections will be ready soon.
This beautiful book includes patterns for 20 stunning designs and notes about Willyne's life story. Every quilt is a work of art. Willyne's designs with hexagons and pentagons are brilliant.
The flip-book of the quilts on the Quiltmania site shows more of the quilts.
Inklingo makes quilting more accessible and more affordable for quilters whether they enjoy English Paper Piecing or not. The Inklingo Passacaglia shape collections will include more quilters.
When you print with Inklingo, there are more options:
print on fabric and sew by hand with a running stitch
print on fabric and sew by machine
Sewing the shapes in The Passacaglia is similar to sewing hexagons for Grandmother's Flower Garden and other designs, but there is added complexity because the rosettes interlock and overlap each other.
I think Roger Penrose would be impressed with Willyne's interpretation of his work on Penrose tilings.
The new Inklingo shape collections will NOT include instructions for assembling the quilt but if you order the book now, you will have Willyne's instructions when you buy the Inklingo Passacaglia shape collection and we'll mail it to you wherever you are! (Priority Postage USA $5.75, Canada & Mexico $20.55, other Global Priority $24.75)
The whole world loves Willyne's designs and I am thrilled to be testing the Inklingo shape collections now.
I love my "work." It's a tough job, but somebody has to do it. ♥
I can hardly wait to see what you do with Willyne's wonderful designs and Inklingo!
ARE YOU SUBSCRIBED?
You can subscribe to the blog (top of right sidebar) and follow Inklingo on Facebook to stay up to date with progress and be one of the first to order the Passacaglia shapes to print on fabric—soon!
Of course, we think you will want to order the book now.
Thank you for visiting. If you have any questions, please ask. I always answer as quickly as possible and I am happy to help.
Linda & Monkey

New to Inklingo? Order and download free shapes and start sewing in the next few minutes. Quick Start (Always FREE.) There are triangles, diamonds, and squares in the free collection—great for dozens of different blocks.
$10 Coupon!  8 Year Anniversary Special on the handbook
25 Signs YOU are an Inklingo Quilter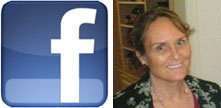 Are you following Inklingo on Facebook?
You don't have to have a Facebook account to see what I post there, but if you do, please check "Get Notificatons" and like and share my photos.