Congratulations to Fern in Singapore!
Her stunning Patchwork of the Crosses has been selected by the jury as a finalist in the Houston Quilt Festival! She printed hexagons and other shapes on fabric with Inklingo.
The photographer did a wonderful job of capturing the beauty of this quilt too.
Wouldn't you love to be in Houston this October, so you could see Fern's stunning work in person?
I love everything about this quilt. Fern's fabric choices are brilliant.
Lucy Boston would be proud!
Fern wrote:
I am such a convert to Inklingo.
It has transformed my life.
I cannot see myself doing EPP again.
Inklingo is better, more accurate, faster and you do not see the stitches too, so so much prettier!
Fern used Lucy Boston Patchwork of the Crosses and . . .
. . . the optional 90° Hexagon 1 inch shape collection, so she could print the shapes on fabric with her ordinary Inkjet printer.
Inklingo allows quilters to be more creative and finish in a reasonable amount of time, whether they piece by hand or by machine. Spend your time choosing the right fabrics and sewing—not fiddling with templates, basting and whip-stitching!
Thank you, Fern, for your permission to announce this thrilling news.
I envy anyone who will be at the Houston Quilt Festival to meet Fern and see her masterpiece in person.
ARE YOU SUBSCRIBED?
I hope you will subscribe to the blog (top of right sidebar), so you don't miss the news.
The blog is perfect for major news like this and for lessons, but we post every day on the Inklingo Facebook Page too, so please visit us there too. (You don't have to have a FB account to see what we post there.)
I feel inspired to sew today, don't you? Thank you, Fern!
Linda & Monkey

New to Inklingo? Order and download free shapes and start sewing in the next few minutes. Quick Start (Always FREE.) There are triangles, diamonds, and squares in the free collection—great for dozens of different blocks.
$10 Coupon!  8 Year Anniversary Special on the handbook
25 Signs YOU are an Inklingo Quilter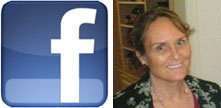 Have you liked the Inklingo FB page yet? AND chosen "Get notifications?"
If you haven't, please do!