1. Things Quilters Don't Expect to See
My article about Inklingo for Nan at Purrfect Spots for her blog may be the first article in the history of blogging that includes images of the covers of a Latin textbook and The Little Engine That Could. (No actual evidence available. Just guessing.)
Latin, persistence, and optimism are part of the story of Inklingo.
Nan at Purrfect Spots is a good friend and has been using Inklingo for years. I think you will enjoy her blog, especially if you love dogs and cats and other furry beasts. (Monkey loves them from a safe distance.)
We announced the new article about Inklingo on Facebook yesterday. There will be a draw on April 28th. There was also an exciting announcement about Electric Quilt!
If the announcements did not show up in your timeline yesterday, please go to the Inklingo Facebook page and click "Get Notifications" in the drop-down menu under the like button.
The more "likes" and comments and "shares," the more FB thinks I am posting something worthwhile, and the more quilters will see it—an upward spiral.
If you have a FB account, you can post your own photos on the Inklingo Facebook page AND you can share mine on your timeline.
Even if you don't have a Facebook account, you can see anything I post on the Inklingo Facebook page if you remember to look.
2. Things Doc Martin Doesn't Understand
I am a big fan of this series! I posted this on the Inklingo Facebook page yesterday and there are more to come.
Everything I see and do seems to have something to do with quilting.
I hope you will join the fun and tap the "share" button too.
If you are new to Inklingo, I recommend starting with the FREE Diamond Triangle Square shape collection. so you can print shapes for a 4.5 inch LeMoyne Star to sew by hand or by machine.
The free shape collection includes the first chapter of The Inklingo Handbook. With that and the Top Ten Tutes on the blog, you will be an Inklingo expert in no time!
ARE YOU SUBSCRIBED?
Facebook is fun but the blog is still the best place for me to teach, so I hope you will subscribe (top of right sidebar).
3. Things to Do
Read the article on Purrfect Spots and leave a comment there to be in the draw. (You could win!)
Check the Inklingo Facebook page for POTC blocks and quilting memes.
Like the Inklingo FB page (and choose Get Notifications).
Subscribe to the blog (top of right sidebar).
Make time for sewing today!
Thank you for visiting here and on Facebook.
Linda & Monkey

New to Inklingo? Order and download free shapes and start sewing in the next few minutes. Quick Start (Always FREE.) There are triangles, diamonds, and squares in the free collection—great for dozens of different blocks.
$10 Coupon!  8 Year Anniversary Special on the handbook
25 Signs YOU are an Inklingo Quilter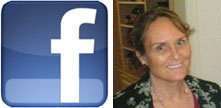 Have you liked the Inklingo FB page yet? AND chosen "Get notifications?"
If you haven't, please do. Thank you!