They've done it again! We've got double the trouble today!
Barb in Texas and Cathi in Ontario became close friends because of Inklingo. By close, I mean that they are in touch every day—at least once.
They sew together despite the 1400 miles between Fort Worth and Toronto.
When the new Inklingo Star shape collection was published, they decided they would blog simultaneously too.
Prepare to gasp with delight!
Yesterday, Barb posted the most amazing Inklingo Stars on her Just Sayin' Sew blog. This is just one of them.
And Cathi posted this Endeavour/Morse Star on Quilt Obsession—using the same shapes that Barb used.
They each have photos of MORE STARS so you will want to visit both blogs for the rest of the story!
We think you will love both of their blogs, especially if you look back at some of the other Inklingo projects they have sewn together far apart.
There's nothing more to see here. LOL Go visit Cathi and Barb, okay?
ARE YOU SUBSCRIBED?
Please subscribe (top of right sidebar), so you don't miss anything.
Thank you for visiting!
Linda & Monkey

New to Inklingo? Order and download free shapes and start sewing in the next few minutes. Quick Start (Always FREE.) There are triangles, diamonds, and squares in the free collection—great for dozens of different blocks.
$10 Coupon!  8 Year Anniversary Special on the handbook
25 Signs YOU are an Inklingo Quilter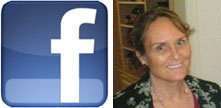 You do NOT have to have a Facebook account to see what I post on the Inklingo Facebook page.
If you do have a FB account, please like my page and choose "Get Notifications" or Facebook will make me pay to show you what I post.
Facebook only shows my photos to about 16% of the quilters who have liked the page unless I agree to pay. (Not 35%, as I thought previously.)
Thank you for subscribing to the blog!