1. Print
Fabric goes through the printer just like paper when it is ironed to freezer paper.
It's fun when you know how. Print on fabric – Best Tips is one of the Top Ten Tutes (tab above).
These are 90° Hexagons 0.75 inch. (The original POTC quilt uses 1 inch.)
2. Remove the freezer paper and rotary cut rows.
Just use the ruler as a straight edge. No measuring or templates.
3. Stack the rows using the lines at the edges so you can cut several layers at a time.
A fresh blade makes this pure pleasure.
With 8 identical sheets of fabric (No Waste Fussy Cutting), the hexagons are sorted automatically into sets of 8.
4. You are the artist.
Play and feel confident.
5. Sew with a running stitch.
It's the simplest stitch in the world and even easier when every piece is perfect —and you have a line to sew along! (GFG video)
Lose yourself in happy thoughts.
Monkey says the point of a fresh needle pokes negative thoughts before they take hold. They float away.
6. Perfect your pressing technique.
When you hand piece, you only sew from crosshair to crosshair (not edge to edge), so you can leave all the pressing to the end.
7. It even looks pretty from the back!
Start anywhere. Press the seam allowances to the side around one intersection clockwise. When you move to an adjacent intersection, it is already started going in a counterclockwise direction. Keep moving from one intersection to the next, alternating clockwise and counterclockwise.
It is easier to do it than to write it out in words.
EXERCISE Isolate any two adjacent intersections in this photo with your eye. See how the seam allowances are pressed around one intersection clockwise and the other counterclockwise?
7A The red dots mark two intersections.
I isolated these two. It works no matter which two adjacent intersections you choose.
If you press all of the blocks identically, the whole quilt top presses perfectly.
8. What do you think?
If you don't like it, I'll make another one.
If you do like it, I'll make another one.
Win-win.
9. Resistance is futile.
11. Remember to take time to smell the flowers before you sew the next one.
Lucy Boston was just as famous for her garden at the Manor at Hemingford Grey as she was for the Patchwork of the Crosses (POTC).
Fresh air is good.
Take a few deep breaths.
12. Repeat!
You knew that was coming, didn't you?
Monkey says that is a hexagon story with a happy ending because there are always more hexagons.
There is more info and video on the Main Lucy Boston Page.
ARE YOU SUBSCRIBED?
Please subscribe (top of right sidebar), so you don't miss anything.
Thank you for visiting!
Linda & Monkey

New to Inklingo? Order and download free shapes and start sewing in the next few minutes. Quick Start (Always FREE.) There are triangles, diamonds, and squares in the free collection—great for dozens of different blocks.
$10 Coupon!  8 Year Anniversary Special on the handbook
25 Signs YOU are an Inklingo Quilter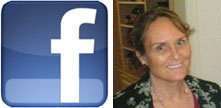 You do NOT have to have a Facebook account to see what I post on the Inklingo Facebook page.
If you do have a FB account, please like my page and choose "Get Notifications" or Facebook will make me pay to show you what I post.
Facebook only shows my photos to about 16% of the quilters who have liked the page unless I agree to pay. (Not 35%, as I thought previously.)
Thank you for subscribing to the blog!