When I wrote about fussy cutting hexagons for QuiltingHub recently, I realized that some quilters are not familiar with using Inklingo to make templates!
How ironic . . .
. . . especially considering that using templates was the technique I taught from 2000 to 2006 from my Quilted Diamonds books—and templates were the inspiration for Inklingo!
If I had not been teaching—and seeing first hand the problems quilters had with using templates—I would not have been inspired to find a faster, more accurate method of preparing shapes for hand and machine piecing.
Inklingo might not have been born!
My first choice is always to print the shapes on fabric with Inklingo. It is faster, easier and more accurate than using any kind of template.
Inklingo quilters spend more time sewing and less time getting ready to sew—and get better results!
WHY TEMPLATES?
There are some situations when templates make sense.
Fussy cutting when you don't have enough fabric to print identical sheets for No Waste Fussy Cutting.
Using tiny scraps or pre-cut strips, too small even for the tips in the Top Ten Tutes.
Cutting huge shapes that are too big for your printer.
Using fabrics which are too dark on the wrong side to print easily even with the tips for dark fabric in Top Ten Tutes.
I include the shapes WITHOUT seam allowances in Inklingo shape collections for situations like these.
WHY WE PREFER FREEZER PAPER FOR TEMPLATES
My favorite template material is freezer paper. It gives better results and it makes quilting accessible to more people.
All you need is a roll of freezer paper from the grocery store, a mechanical pencil, an acrylic ruler (any kind), and a small, flexible plastic ruler. The markings on the two rulers are not important because we only use them as a straight edge. No measuring, so nothing special to buy. Use what you already have.
1. Freezer paper is inexpensive and readily available—no waiting for delivery or paying for shipping.
Even if you do have to order FP online, you get a lot of FP for your shipping dollar, so you can always have it on hand.
2. Freezer paper is easy to print with any ordinary Inkjet printer, so it works perfectly for  ANY shape you can print or draw and you can print as many as you need quickly. Freezer paper is versatile because it is easy to customize or cut partial shapes too.
3. Freezer paper templates are ideal for rotary cutting several layers at a time OR for scissors cutting, and there is no need to mark the cutting line on the fabric.
4. Freezer paper templates printed with Inklingo have matching marks on the seam lines, which is a big help when you are pinning and sewing.
5. You can write on the FP to note which fabric to use, or the grain line, or number the pieces for sewing sequence or to avoid turning a piece the wrong way. Customize your templates in any way you like. A few notes are worthwhile especially because FP templates can be used over and over again.
6. Freezer paper templates are easy to store and re-use. They take up less room than acrylic or other templates and they are unbreakable!
7. Freezer paper templates stay in position—no slipping and sliding—because we iron the plastic coated side to the wrong side of the fabric to create a temporary bond. If you don't have an iron handy (preferred) you can tack freezer paper templates into position with a tiny dab of glue-stick instead of pins.
8. If you lose your freezer paper templates it is easy to make more instantly. No big investment, no frustration.
9. When you print freezer paper templates with Inklingo shape collections you also have instructions and yardage requirements. Some shape collections include bonus shapes too. These are not normally included with other kinds of templates.
Freezer paper is less expensive than other template materials—but gives better results!
We love that!
THANK YOU, MARY!
I feel very lucky that my friend Mary taught me how to hand piece with freezer paper templates in the apartment by the beach in Naples in 1997. Without that, I might never have become a designer, an author, and an inventor.
Give a girl an acrylic template and she can make a quilt.
Teach a girl how to make freezer paper templates and she can make any quilt.
Freezer paper templates leave me with more money to buy fabric too. Mary was the first person I ever met who had a "stash." LOL She has had a big influence on my life.
NEXT TIME—TEMPLATE TIPS
My Best Tip—Print the shapes on fabric with Inklingo whenever you can!
However, next time I will share my best tips for using templates, including tips for:
using and re-using freezer paper
taking the curl out
marking tools
marking accurately
rotary cutting without waste
storing your templates
and more!
That's next. Please subscribe (top of right side bar), so you don't miss anything.
I have been sharing photos every day on Facebook too. Did you choose "get notifications" under the Like button, so Facebook shows you my photos?
Thank you for visiting here and on FB! See you next time.
Linda & Monkey

New to Inklingo? Order and download free shapes and start sewing in the next few minutes. Quick Start (Always FREE.) There are triangles, diamonds, and squares in the free collection—great for dozens of different blocks.
$10 Coupon!  8 Year Anniversary Special on the handbook
25 Signs YOU are an Inklingo Quilter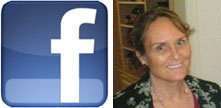 You do NOT have to have a Facebook account to see what I post on the Inklingo Facebook page.
If you do have a FB account, please like my page and choose "Get Notifications" or Facebook will make me pay to show you what I post.
Facebook only shows my photos to about 16% of the quilters who have liked the page unless I agree to pay.
Thank you for subscribing to the blog!