Monkey is right.
QuiltingHub is featuring a new article about Inklingo!
The new article is How to Fussy Cut with No Waste.
There are also two wonderful articles by one of my quilting heroines—Ami Simms.
While you are there, QuiltingHub is a fabulous site to explore.
SHOW & TELL ON QUILTING HUB
Create a FREE account and post your Inklingo quilts in the Show & Tell!
How cool is that? Wouldn't you love to see Inklingo quilts on QuiltingHub? I would.
You can also sign up for QuiltingHub's free monthly newsletter.
Monkey and I would also love it if you sign in to rate Inklingo and all of the articles about Inklingo on QuiltingHub. (Our little chipmunk is more interested in peanuts.)
I hope you have checked Facebook this week to see what Monkey and I have been up to. We post links or photos 2 or 3 times a day.
Even if you don't have a Facebook account, you can see anything I post on the Inklingo Facebook page—if you remember to look.
If you want to see Inklingo in your timeline, please go to the Inklingo Facebook page and click "Get Notifications" in the drop-down menu under the like button.
To show Facebook that you are interested in what I post there, please "like" or even better—"share" my photos.
The more my photos are shared, the more quilters hear about Inklingo.
I hope you will join the fun and tap the "share" button too.
COMING SOON
When I'm not on Facebook, I am working on two new shape collections. It always takes longer than I think it will, but POTC hexagon shape collections with 0.5 inch sides and with 0.75 inch sizes will be ready soon.
There are a few other shape collections which are "almost finished" too.
I'm going to put in another DVD and keep on working.
ARE YOU SUBSCRIBED?
Facebook is fun but the blog is still the best place for me to teach or write longer messages, so I hope you will subscribe (top of right sidebar).
"No waste fussy cutting" with Inklingo is probably simpler than you are imagining and there is more good stuff coming this month.
Isn't this a great way to start a new month? Happy June! Thank you for visiting here and on Facebook.
Linda & Monkey

New to Inklingo? Order and download free shapes and start sewing in the next few minutes. Quick Start (Always FREE.) There are triangles, diamonds, and squares in the free collection—great for dozens of different blocks.
$10 Coupon!  8 Year Anniversary Special on the handbook
25 Signs YOU are an Inklingo Quilter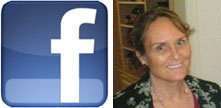 Have you liked the Inklingo FB page yet? AND chosen "Get notifications?"
If you haven't, please do. Thank you!