We've done it again!
We've added a new shape and new layouts to an existing shape collection at the request of Inklingoists and pattern designer Joan Ford at Hummingbird Highway.
The Inklingo shape collection 90° Hexagon 1.5 inch for the large version of Lucy Boston Patchwork of the Crosses (POTC) just got even better!
New layouts! New shape!
If you already have the POTC shape collection with 1.5 inch hexagons, you can get the expanded version by logging into your account and downloading again.
It's that simple.
There is no need to place a new order.
We are giving this to everyone who has the shape collection.
You can download now or whenever you like. Whenever you download from your account on inklingo.com, you get the latest version. The last time this shape collection was updated was 2011.
If you need a refresher, the Download Instructions are under the Support & Goodies tab on inklingo.com.
So far, there are two sizes for Patchwork of the Crosses.
In May, we expanded the original shape collection (90° Hexagons 1 inch) to add a third layout for the hexagons.
Today we added even more to the 90° Hexagon 1.5 inch.
an extra hexagon layout to give you another option for straight grain
the half hexagon (2 layouts) – WOW!
The half hexagon allows you to make even more variations!
The half hexagon was included in the shape collection with 1 inch hexagons, but not for 1.5 inch. Now it is in both!
It is an advantage of the downloads that we can update shape collections like this. We can't do that with CDs.
However, please remember that this has affected page numbering, so if you have old cheat sheets for printing, you will need to update them, okay?
We think this makes 90° Hexagon 1.5 inch extra-extra special.
If you haven't started Patchwork of the Crosses yet, all the details are on the Main Lucy Boston Page, including video.
I hope you have checked Facebook this week. We have been working hard on something new.
If you want to see Inklingo in your timeline, please go to the Inklingo Facebook page and click "Get Notifications" in the drop-down menu under the like button.
To show Facebook that you are interested in what I post there, please "like" or even better—"share" my photos.
The more my photos are shared, the more quilters hear about Inklingo.
If you have a FB account, you can share my photos on your timeline AND you can post your own photos on the Inklingo Facebook page.
Even if you don't have a Facebook account, you can see anything I post on the Inklingo Facebook page—if you remember to look.
I hope you will join the fun and tap the "share" button too.
COMING SOON
If you have been following Inklingo on Facebook, you know that I have been working on two new sizes for Patchwork of the Crosses, so you will have a choice of FOUR sizes!
POTC hexagon shape collections with 0.5 inch sides and with 0.75 inch sizes are almost ready. Stay tuned, okay?
The new shape collections would be ready by now, but I have been playing hookey with Russ. The result is a new view from my desk at Inklingo headquarters.
The mossy rock on the right is chipmunk-approved.
The muscle men have left and all that brown triple-mix will be planted with hosta, periwinkle and other ground cover. Russ and I have our work cut out for us!
It rained hard overnight, so I'm at the computer until it dries up a bit.
If you are desperate for the new POTC shape collections, you should pray for rain. The forecast for the next few days is perfect, so I might be outside more than I am at the keyboard.
The new landscape plan has been an exciting project for both of us. I'll share a few more photos on Facebook.
ARE YOU SUBSCRIBED?
Facebook is fun but the blog is still the best place for me to teach or write longer messages, so I hope you will subscribe (top of right sidebar).
I hope you will have a look at the new & improved 90° Hexagon 1.5 inch shape collection. See you on Facebook?
Linda & Monkey

New to Inklingo? Order and download free shapes and start sewing in the next few minutes. Quick Start (Always FREE.) There are triangles, diamonds, and squares in the free collection—great for dozens of different blocks.
$10 Coupon!  8 Year Anniversary Special on the handbook
25 Signs YOU are an Inklingo Quilter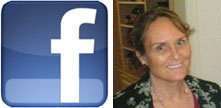 Have you liked the Inklingo FB page yet? AND chosen "Get notifications?"
If you haven't, please do. Thank you!