The Inklingo shape collection for Lucy Boston Patchwork of the Crosses (POTC) just got even better!
I have expanded the shape collection to add a third layout for the hexagons!
Why?
To give another option for straight grain, and
To allow you to print 4 hexagons at a time on 5 x 5 inch charm squares!
(Cut the freezer paper 5 x 5.25.)
This new Inklingo layout was requested by Donna Bonn because she wanted to print charm squares and 4 hexagons don't quite fit when you use the other layouts.
I was already updating POTC with new links to video, etc., so it made sense to add this new layout too.
It is an advantage of the downloads that we can update shape collections like this. We can't do that with CDs.
However, please remember that this has affected page numbering, so if you have old cheat sheets for printing, you will need to update them, okay?
Monkey thinks that it is very cool and we hope you do too.
HOW TO GET THE NEW LUCY BOSTON SHAPE COLLECTION
If you don't have it yet, you can see all of the options and video on the Main Lucy Boston Page.
You can buy the Inklingo shapes to print on fabric OR a combo with the shapes to print on fabric plus the POTC book:
If you already have the POTC shapes, you can get the expanded version by logging into your account and downloading again.
It's that simple.
There is no need to place a new order.
We are giving this to everyone who has the shape collection.
Note: If you have the combo, it is listed twice—once under Your Downloads and once under Your Other Purchases. Of course, to download, you must use the Lucy Boston Combo link under Your Downloads, not the other one.
You can download now or whenever you are ready. Whenever you download from your account on inklingo.com, you get the latest version. The last time this shape collection was updated was 2011.
If you need a refresher, the Download Instructions are under the Support & Goodies tab on inklingo.com.
My sister saw what I was doing with scenes from movies on the Inklingo Facebook page and—brilliant sister that she is—she found an amazing sewing scene in The English Patient (1996) . . . and she used it on my birthday card this week!
We have been making homemade birthday cards for each other for as long as I can remember. Aren't I lucky to have such a creative sister?
(If you know the movie, her caption is hilarious.)
I have favorite movies to re-watch while I am sewing or working on the computer and everything I see and do seems to have something to do with quilting. You can see what I mean on the Inklingo Facebook page.
I hope you have checked Facebook this week to see what Monkey and I have been up to.
If you want to see Inklingo in your timeline, please go to the Inklingo Facebook page and click "Get Notifications" in the drop-down menu under the like button.
To show Facebook that you are interested in what I post there, please "like" or even better—"share" my photos.
The more my photos are shared, the more quilters hear about Inklingo.
If you have a FB account, you can share my photos on your timeline AND you can post your own photos on the Inklingo Facebook page.
Even if you don't have a Facebook account, you can see anything I post on the Inklingo Facebook page—if you remember to look.
I hope you will join the fun and tap the "share" button too.
COMING SOON
We aren't finished with Patchwork of the Crosses yet!
If you have been following us on Facebook, you know that I have also been working on two new sizes.
POTC hexagon shape collections with 0.5 inch sides and with 0.75 inch sizes are coming soon. There is a chance I can finish before the end of May, if I work hard.
ARE YOU SUBSCRIBED?
Facebook is fun but the blog is still the best place for me to teach or write longer messages, so I hope you will subscribe (top of right sidebar).
Happy Memorial Day weekend to everyone in the USA. I hope you have something printed and ready to sew.
Thank you for visiting here and on Facebook. I'm going to put in another DVD and keep on working.
Linda & Monkey

New to Inklingo? Order and download free shapes and start sewing in the next few minutes. Quick Start (Always FREE.) There are triangles, diamonds, and squares in the free collection—great for dozens of different blocks.
$10 Coupon!  8 Year Anniversary Special on the handbook
25 Signs YOU are an Inklingo Quilter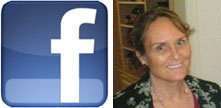 Have you liked the Inklingo FB page yet? AND chosen "Get notifications?"
If you haven't, please do. Thank you!