Test Inkjet Ink on fabric for the best results. Test pages allow you to use the Inkjet ink and ink you already have.
It is worth a few minutes to test the ink in your printer because printing the shapes on fabric with Inklingo saves so much time and makes quilting so easy and precise.
WHY TEST INKJET INK ON FABRIC?
To see how well the 20 Inklingo colors wash out when printed with your particular ink cartridges.
To see which of the 20 choices show well on a particular fabric. There may be several which are good.
With experience, you will become good at guessing for #2, but you must not guess about # 1.
Test every time you insert a new cartridge just in case the formula has changed.

Each test only requires a 5 x 5 scrap of fabric and you can wash or rinse your test fabric and use it in the quilt. (Any time you print the wrong color, you can wash the fabric and print it again.)
All Inklingo colors should wash out easily immediately after they are printed, before pressing. Heat tends to set Inkjet ink so it is harder to wash out after a quilt block has been pressed. That is why we press our tests.
Test # 1 – Test Inkjet Ink on fabric
every time

you insert a new cartridge.


Print this test on light  fabric so you can see whether all of the ink washes out completely or not.

Notice that Inklingo offers 20 different colors and line weights WITHOUT BLACK INK. Black ink is the worst for smearing and bleeding and is less likely to wash out completely.

Press and rinse the fabric in the sink with warm soapy water. More ink will disappear/fade if you wash by machine. Cold running water sometimes works too, so if warm water doesn't work, Monkey recommends a cold shower. (See Monkey in the shower, page H34 of the free shape collection.)
Best Case
We love it when all of the ink will wash out completely.
You will feel confident using Inklingo colors with higher numbers, which are easier to see.
You can wash and re-use the test fabric.
You can wash and re-print fabric printed by mistake. (Yes, mistakes have been known to happen.)
The lines I can see for cutting and sewing are sometimes too light and fine to show well in photos, so I often use the Inklingo colors with the higher numbers. It is only safe because I have done Test # 1 and I know which colors will wash out even after pressing.
What if the ink does not wash out of the fabric?
If the ink does not wash out completely you can still use it for Inklingo—but only the colors that do not bleed or shadow through to the front.
What if you don't have enough fabric for the second test?

Don't despair! If you have done Test # 1 and know how well your ink washes out but can't spare a 5 x 5 inch scrap for Test # 2, we have some suggestions!
Use what you have. Iron whatever scrap you have on a 5 x 5 piece of FP to print the most likely row or rows of ink colors (above).
Print the test page on one of the sheets you intend to use for shapes. After the test, rinse the fabric, let it dry, iron it, and re-print with the shapes.
Guess. You will get good at guessing, but if the ink color is not suitable because the lines shadow through on the front or because you cannot see the lines well enough, wash the fabric and re-print with your second guess.
Test a fabric of similar color and weight.
What if you don't have a lot of freezer paper?

I have several pieces of 5 x 5 FP handy for Test Pages. I use the same ones over and over and over again.
If you prefer, you can use one of the larger pieces of FP that you will be using for the shapes. Cut the fabric about 5 x 5 (or less) and position it on the larger sheet. The first time you do this, you may want to print on scrap paper first, so you know exactly where to position the fabric.
There are detailed, illustrated  notes about both tests in the first chapter of The Inklingo Handbook (pages 32-37, or pages H32-H37 of the free shape collection for Diamond/Triangles/Square). You can order and download the free shape collection in the next few minutes.
A Musical Test Too
I tested replacing the words "Pretty Woman" with "Inkjet Printer" and it worked! (Testing is always a good idea.) I'm especially tickled by the end of the fourth line.
Inkjet printer, won't you print for me?
Inkjet printer, fabric I like to see.
Inkjet printer, I don't believe you, you're not the truth.
No one could print as good as you. Fabric!
Inkjet printer, won't you print for me?
Inkjet printer, I couldn't help but see
Inkjet printer, that you make it easy as can be.
Are you a quilter just like me?
Inkjet printer, pause awhile.
Inkjet printer, print awhile.
Inkjet printer, print a test for me.
Inkjet printer, yeah, yeah, yeah.
Inkjet printer, print my way.
Inkjet printer, say you'll print for me.
Cause I need you, I'll treat you right
Print with me baby, be mine tonight.
Inkjet printer, just one more try.
Inkjet printer, please don't run dry.
Inkjet printer, don't stop on me, hey, OK.
If that's the way it must be, OK.
I guess I'll go to bed, it's late.
There'll be tomorrow night, but wait.
What do I see? Is she inklingo-ing for me?
Yeah, she's printing more for me.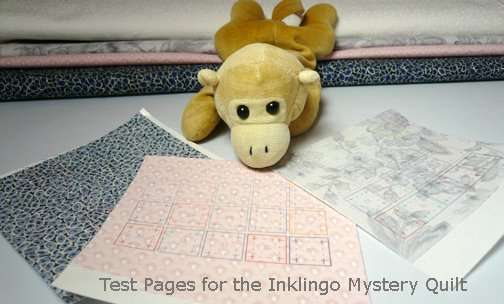 The Case of the Secret Garden Mystery Quilt (COTSG)

The mystery doesn't require DNA tests, just the evidence you get from these simple tests. It would be criminal to ignore a good lead, don't you think?
You will be printing shapes on fabric in COTSG Clue # 2. You can print your Test Pages now and be ready for the next clue.
What more evidence could you possibly need?
There is also great info available about how to avoid jams on Quilting Hub.
Cool Tips for Using Freezer Paper

(Monkey says, It is important for FREEZER paper tips to be cool.)
If you are using FP on a roll and it wants to curl, you can flatten it permanently by ironing it to your ironing surface. It will peel off neatly and lie flat.  It doesn't "use it up." Each sheet of FP can be used over and over and over again.
It is a good idea for quilting detectives to subscribe to the blog (top of right sidebar), so they are sure to witness everything, okay?
Linda & Monkey

New to Inklingo? Order and download free shapes and start sewing in the next few minutes. Quick Start (Always FREE.) There are triangles, diamonds, and squares in the free collection—great for dozens of different blocks.