It is amazing to see the many ways this simple shape can be used when you print Clamshells on fabric with Inklingo!
This shape fits together like a mosaic without overlapping or gaps and that is "tessellating." That makes some wonderful quilt designs and settings!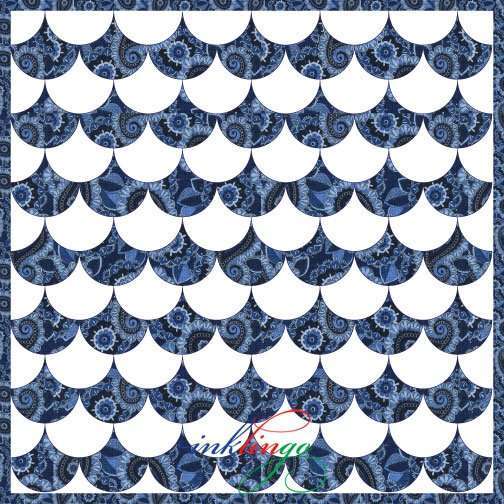 The new Inklingo Clamshell shape collections include the worksheet for a traditional layout.

Main Clamshell Page (Several Sizes, Downloadable)
You can be happy as a clam sewing this wonderful shape into rows.
Use three fabrics, or go scrappy for "Clam Chowder" by printing on charms like the ones in previous articles on this blog.
Clamshells also make intriguing 4-patches.
I've been sharing ideas like this on the Inklingo page on Facebook too.
I hope you visit there every day! Just because you have liked the Inklingo page does NOT mean that Facebook will show everything I post there on your timeline!
Clamshell 4-patches are amazing! They can even disappear depending on the color placement.
The 4 patches can be sewn in rows or on the diagonal.
If you want to spice up your clam recipe, you can print 4 identical sheets of fabric with Inklingo No Waste Fussy Cutting to get sets of 4 identical Clamshells!
Clue: No Waste Fussy Cutting is similar to Stack n Whack ™ but without the stacking!
Just like traditional Fussy Cutting, fussy cutting with Inklingo all depends on finding the right fabric!
There are TWO methods of fussy cutting with Inklingo.
There are other variations too. This is just the tip of the Clamshell!

I can't stop tweaking until I get it right but . . . 
. . . when you print the shapes on fabric with your ordinary Inkjet printer, you can afford to spend a little time perfecting the design.
The preparation and sewing goes fast!
Sew by hand or by machine!
Annika in Holland shared modern Clamshell quilt designs on the Stof Genoeg blog. I know you will want to see those too! She is a long-time Inklingo quilter.
CLAMSHELLS IN EQ?
Annika designed her Clamshell quilts with Electric Quilt software.
I am interested in designing with Clamshell shapes in EQ too. Where to start?
If you have any tips that would help me get started with Clamshells in EQ, please let me know. If I can figure it out, I'll add EQ Clamshell project files to the collection on the blog. (Look under the EQ tab above, for a large selection.)
If you are new to Inklingo, there are step by step instructions and a new VIDEO on the Welcome to Inklingo page on the website.
ARE YOU SUBSCRIBED?
If you subscribe to the blog (top of right side-bar), you will be the first to see the next articles.
There is a "slide show" of Fussy Cut Clamshells on the Inklingo Facebook page too. I try to post something new every day, so there are several others.
There are many photos of projects made by Inklingo quilters too.
I am playing with ideas for Clamshell borders. I'll let you know what happens, okay? In the meantime, you probably want to visit the Main Clamshell Page (Several Sizes, Downloadable)
Thank you for visiting!
Linda & Monkey

New to Inklingo? Order and download free shapes and start sewing in the next few minutes. Main Beginner's Page  There are triangles, diamonds, and squares in the free collection—great for dozens of different blocks.
$10 Coupon! 10 Year Anniversary Special on the handbook
25 Signs YOU are an Inklingo Quilter