Inklingo quilters have requested many variations of Mariner's Compass like this one.
Mariner's Whirl (382-12) was designed by Jinny Beyer. It appealed to me more than many Mariner's Compass designs. Luckily, Jinny was open to the idea of making it Inklingo-able. Print the shapes on fabric with your ordinary Inkjet printer. It simplifies everything!
Mariner's Whirl is just one of a gazillion designs taught by Jinny.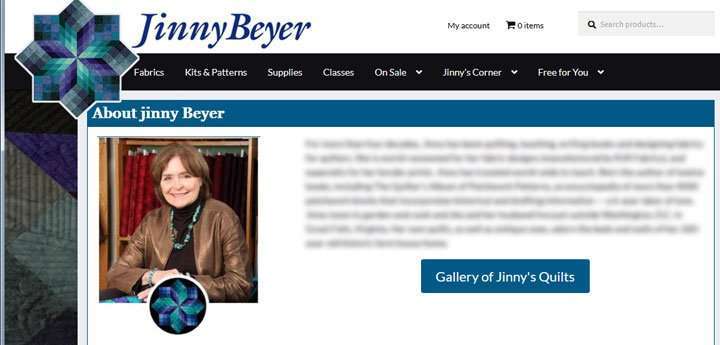 You probably already know about Jinny Beyer's amazing contributions to quilting. There is a brief bio on jinnybeyer.com. She has been a major influence for decades and is one of my quilting heroines. Her Quilter's Album of Patchwork Patterns is indispensable to me.
Mariner's Whirl is easier to sew with Inklingo than with traditional template methods and it is perfect for fussy cutting. I used Jinny's fabrics for mine—of course.
New shape collections are ready for Mariner's Whirl in 3 sizes—12 inch, 16 inch and 20 inch circles.
These are especially quick and easy to chain piece by machine.
Print on fabric (or on paper). There is a choice of layouts for different straight grain and directional fabric. As usual, there are precision corners to make everything as easy and precise as possible.
Cut on the lines! (Why I don't sell acrylic templates.)
Sew!
The precision corners and matching marks printed on the fabric make it especially easy to sew the 16 blades. There is a guide so you can check the size as you go.
Add the center shape by hand and then reverse appliqué the circle to a background.
Fussy Cut
These blocks are so fast to sew that you can take some extra time to fussy cut and still finish in a reasonable amount of time.
Jinny Beyer's border fabrics are fabulous for fussy cutting Mariner's Whirl.
Everyone loves fussy cutting and it is even more fun when you can get immediate results by machine.
TWO methods of Fussy Cutting with Inklingo
Inklingo is all about making quilting more accessible.
If you have not used Inklingo before, please start with the FREE Diamond Triangle Square shape collection.
Print the free shapes and browse the first chapter of The Inklingo Handbook, so you will be ready for ANY shapes, including Mariner's Whirl.
LOW INTRO PRICE UNTIL JUNE 7TH
Monkey and I are all about making quilting more accessible–and that means affordable too. The new sizes are $25 today, going up to $30 next week—still a fabulous deal!
OTHER LINKS YOU MIGHT LIKE
There is much more to say about Mariner's Whirl, so please come back next time.
Thank you for visiting.
Linda & Monkey