Debbie in Kentucky WOW-ed everyone when she posted photos of her Lucy Boston Patchwork of the Crosses blocks on Facebook recently.
TWO METHODS OF FUSSY CUTTING WITH INKLINGO

I keep seeing online messages indicating that "you can't fussy cut with Inklingo."
This is sooooooo WRONG!
Debbie knows! There are two ways to fussy cut with Inklingo!
One method lets you cut exactly the design you want and makes "Swiss cheese" of the fabric and the other uses the fabric very efficiently but you don't choose the designs in each shape.
1. No Waste Fussy Cutting
Find the repeat in the fabric along the selvage and print as many identical sheets of fabric as you need identical shapes.
This method is similar to One Block Wonder, Kaleidoscope and Stack n Whack™ techniques, but simpler—no stacking!
This method is also similar to Stack n Whack™ and the other methods in that the results are random. (Tips for choosing fabric, below)
You can choose Inklingo Custom Page Sizes that work well with common repeats (12 inch, 24 inch, etc.)
Instructions
If you understand the idea of printing identical sheets of fabric, you are all set but there are detailed instructions in several places with our best tips. This article on QuiltingHub is a good place to start.
2. Traditional Templates
If you don't have enough fabric to be able to print several identical sheets of shapes or if you want to choose exactly which flower or other design to use, you can still fussy cut with Inklingo!
Inklingo shape collections include the shapes without seam allowances to print on freezer paper or other template material, so you can fussy cut the traditional way.
With this method, you choose exactly which flower or other design to feature. This is different from the random effect of No Waste Fussy Cutting, Stack n Whack™ and others. (Tips for choosing fabric, below)
Templates printed with Inklingo on freezer paper are better than acrylic templates for fussy cutting (no slipping and sliding), and there is no extra expense for pre-cut papers or acrylic templates!
You can use shapes prepared with templates with shapes printed with Inklingo—the best of both worlds—and sew by machine or by hand.
Instructions
I loved seeing Debbie's blocks on Facebook and she graciously gave me permission to feature her POTC blocks on the blog too.
In Debbie's own words:
Without Inklingo, I would never be doing hexies. I've tried EPP several times and hated it every time! With Inklingo, the hexies look better, you can't see the stitches (my pet peeve with EPP), and they are so fast and easy it's almost ridiculous!! I love hexies now (but only because of Inklingo!!)!  
This is going to be an amazing quilt.
"IDENTICAL"?
By the way, if you are worried that there are slight variations in your "identical" shapes, please have a look at the close-up detail of the blocks in the original quilt made by Lucy Boston in the book (especially page 10).
The charm of some of the blocks is greater because she did not cut identical motifs with mechanical precision. Small variations seem more lively and interesting, not rigid and sterile.
We aim for precision but little variations can be delightful!
This image shows sections of 3 of Debbie's fabrics.
Debbie is working with fat quarters, so she does not have enough fabric for No Waste Fussy Cutting. She used templates to cut identical motifs instead.
It was not as easy as using the perfectly printed Inklingo lines which some of the hexies did have but it was the only solution I could come up with to make the fat quarters work.  In the end, I think it was worth the effort but yardage and the leeway to get the correct repeats would have been much easier!!!
CHOOSING FABRIC FOR FUSSY CUTTING
You can print Inklingo shapes on paper to make a Window Template to preview fabric in your stash and in the quilt shop. This is the method taught in Lucy Boston Patchwork of the Crosses (POTC) and on the blog.
There is also video about choosing fabric on the Main Lucy Boston Page.
The window template is easier to use than an acrylic template for previewing what you want to cut and you can print as many window templates as you need.
We have been sharing Kaleidoscope Stars on the blog for years. You can search "kaleidoscope" to see some of the fabrics we have used in the past.
As usual, when you use Inklingo, it is easier to determine how much fabric is required too. You can see GFG flowers with this fabric on the blog too.
If anyone asks you whether you can fussy cut with Inklingo, now you know the answer! YES!
If you want to see blocks like Debbie's whenever they are posted on Facebook, please "like" the Inklingo Page and choose "Get Notifications" from the dropdown menu under Like.
SUBSCRIBED?
Please subscribe (top of right sidebar), so you don't miss what is coming next!
Thank you, Debbie, for allowing me to show your wonderful Patchwork of the Crosses blocks here. I hope you will share photos of the rest of them too.
Thank you for visiting.
Linda & Monkey

New to Inklingo? Order and download free shapes and start sewing in the next few minutes. Quick Start (Always FREE.) There are triangles, diamonds, and squares in the free collection—great for dozens of different blocks.
$10 Coupon!  8 Year Anniversary Special on the handbook
25 Signs YOU are an Inklingo Quilter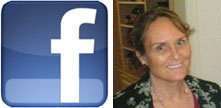 You do NOT have to have a Facebook account to see what I post on the Inklingo Facebook page.
If you do have a FB account, please like my page and choose "Get Notifications" or Facebook will make me pay to show you what I post.
Facebook only shows my photos to about 16% of the quilters who have liked the page unless I agree to pay.
Thank you for subscribing to the blog!