WHY I DON'T SELL ACRYLIC TEMPLATES
I still get requests for acrylic templates for POTC.  I don't recommend them or sell them for any design.
YOU MAY NOT LIKE THIS ARTICLE
It took me several days to write this because I needed to reconsider some strong language. In the end, I decided to vent. I have been holding this in for years.
The info in this article is useful whether you use Inklingo or not.
Some quilters will resist the message but it will set other quilters free—to dance along a more creative and satisfying path.
I know this article may upset some people but I needed to write it because anything less would not be true to my passion for making quilting more accessible
New subscriber? I don't normally vent like this. I hope you will stick around to see what I post next time too.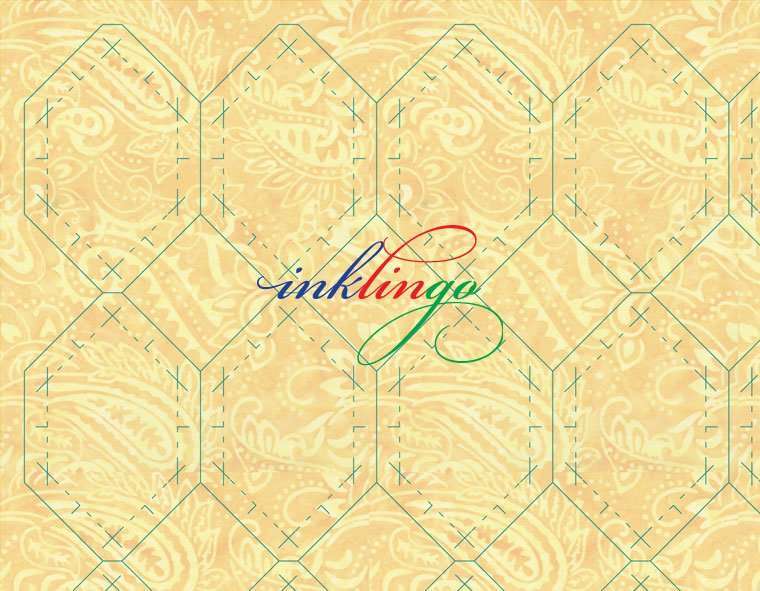 Of course, I think Inklingo is the best tool available to quilters today but even if you do not use Inklingo, you never, ever, ever need acrylic templates for any design. I have been writing about this for years.
I discussed how to use freezer paper with acrylic rulers in Live Video 08 but I don't think I was blunt enough:
Knowing what I know, it would be disrespectful to sell acrylic templates.
My mission is making quilting more accessible for everyone and there is an inexpensive, more useful alternative that gives you the freedom to make ANY design. You don't need acrylic or Inklingo!
FREEZER PAPER IS BETTER
You probably already have everything you need, above. (No affiliation.)
Since the introduction of rotary cutters in the early 1980s, designers have promoted acrylic templates for absolutely everything. At first glance, it looked like a big upgrade from using cereal box cardboard and it has proven to be an easy way for designers to make a little money. Unfortunately it does not benefit quilters.
Many of the businesses that sell acrylic templates have talented designers who create wonderful designs and write excellent instructions, so it baffles me that they continue to promote acrylic. They can do better.
In fact, acrylic templates have been promoted so heavily that some quilters automatically assume they need them for every quilt. However, acrylic templates are one of the worst tools available to quilters. A few illustrations make it obvious.
I recommend using freezer paper templates in the FINISHED size. Add the seam allowance when you cut the fabric with a rotary cutter OR scissors.
TEMPLATES IN THE FINISHED SIZE HAVE SO MANY ADVANTAGES!
Working in the FINISHED size makes every step easier, including designing. In fact, it allows you to make templates in any shape, any size. It also makes the cutting and sewing easier.
Anything you can draw (or print) on freezer, you can cut apart and put together again.
A drawing of the complete block is all you need. Be creative. Draw it. Trace it. Print it. Your choice. Add or remove lines to suit your own style.
Freezer paper templates are inexpensive, flexible, available on the spot. No need to pay postage and wait for a piece of plastic to be delivered.
You can have ANY shape, any time, anywhere, right now. All you need is freezer paper and one acrylic ruler.
ROTARY CUT
Cut single layers OR cut several layers at a time, as demonstrated in Live Video 08.
When you press freezer paper with a hot, dry iron, it sticks temporarily to fabric—no sliding. (If you cannot use an iron for some reason, use temporary Glue Dots, which are also demonstrated in that Live Video.)
Each template can be used over and over and over and over again.
You can write on freezer paper templates, store them in envelopes, and have as many as you want. They can be enormous or tiny.
As if that were not enough, there is another huge advantage of working with the shape in the FINISHED size—it makes it easy to mark the sewing lines (if required), which is much easier and more precise than trying to sew "dot to dot."
It is the sewing line that is important. 
Adding drilled holes to acrylic templates is what Monkey calls a "gratuitous invention" or a "negative improvement." Acrylic templates created the problem. Drilling holes does not solve it.
Fussy Cutting is fabulous with freezer paper templates. No more peering through thick plastic that wants to slide.
Have as many templates as fussy flowers to be cut, not just one to move around. I have written detailed instructions for fussy cutting with freezer paper templates several times on the blog, so I won't repeat it here.
VARIABLE SEAM ALLOWANCES
With freezer paper templates, YOU decide on the amount of seam allowance you want. The width is entirely up to you, so when you are sewing tiny pieces, you can use less than 0.25 inch and in other cases, you might want something wider than 0.25 inch.
WANT TO USE SCISSORS?
Acrylic templates are intended to be used for rotary cutting, so if you want to cut with scissors, you are instructed to draw around the acrylic to mark the cutting line and use dots to mark the seam endings. Good grief!  This is the exact opposite of what you actually need.
It is better to use a template in the finished size, so you can mark the sewing lines, when required. That is what is important. You can eye-ball the seam allowance when you cut with scissors. I think you will be amazed how quickly you train your eye.
TIP  If you don't trust yourself to cut an accurate 0.25 inch seam allowance (yet) with scissors, you can train your eye with a simple crutch. Cut a strip of masking tape 0.25 inches wide (or other width, as illustrated in Live Video 08) and place it on the fabric around the freezer paper template when you cut, moving it from one side to the next as you go.
When you have the sewing line marked, it doesn't really matter if the seam allowances are precise. It is the sewing line that is important. 
You might be amazed by how quickly you learn to judge where to cut to get 0.25 inch, even on curves.
Of course, Inklingo has more advantages than even wonderful freezer paper templates—precision corners, matching marks, layouts that use the fabric efficiently with perfect straight grain, detailed instructions, yardage requirements for any number of shapes, downloadable, etc.
Inklingo is fabulous but when you can't use Inklingo, use freezer paper templates! (No affiliation.)
FOR THE SAKE OF YOUR GRANDCHILDREN
If you are making heirloom quilts for grandchildren, it makes sense to think about not polluting the world they will inherit.
Now that you can see why acrylic templates are more expensive and less useful than the alternatives, you might want to get them out of your sewing room.
Please don't just throw acrylic in the garbage because it could end up floating in the oceans for the next 1000 years. (Recycle Acrylic)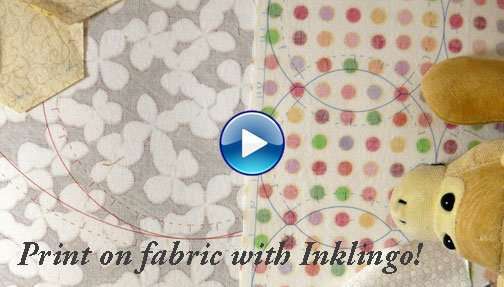 Inklingo is all about making quilting more accessible but you do NOT need to use Inklingo to benefit from this information.
I always recommend starting with the Diamond Triangle Square shape collection ($20 value) because it includes the first chapter of The Inklingo Handbook (pages H5 – H48) and some great shapes to print on fabric.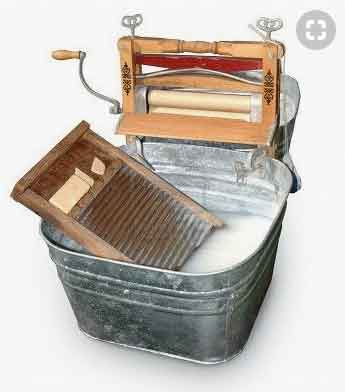 You can still buy wash boards on Amazon. That doesn't mean that is a good way to do laundry in 2018.
I have been teaching quilting with freezer paper templates since my Quilted Diamonds books (2002, 2004). It is not new but it is a fabulous method that makes quilting more accessible no matter what design you want to make.
Why does anyone still sell acrylic templates?
Acrylic rulers. Yes. 
Acrylic templates. No.
I hope you can get some freezer paper (no affiliation) and get your creative juices flowing!
NOTE
You may think I am too harsh in my assessment of those who promote acrylic for everything. They can do better.
Monkey says, So tell me how you really feel.
I say, I feel better for venting. If you want more info, please see Live Video 08. There is also a  summary of the other LIVE videos on the website. (Click on the Video tab.)
Thank you for visiting.
Linda & Monkey