If a Double Wedding Ring Quilt Pattern is on your bucket list, NOW is the time!
Inklingo has all the tools to make it easier to design and sew this classic.
New Double Wedding Ring Video
I was in Texas recently as a guest on The Quilt Show with Alex Anderson and Ricky Tims. It reminded me that I should be doing more video. This one is only 4 minutes but it is a start, okay? (My TQS episode will air in November, so please stay tuned.)
I published the first Inklingo Double Wedding Ring shape collection in March 2009 but it is still new to many quilters.
Inklingo for Double Wedding Ring Quilt is fabulous whether you are using a traditional Double Wedding Ring Quilt Pattern or creating your own variation.
50 Double Wedding Ring Designs in 2 Minutes
Monkey finds that hilarious and says you probably need to "paws" it a few times to get a good look.
Since printing is such a fast, accurate way to prepare the shapes, you can afford to spend time perfecting your Double Wedding Ring pattern and choosing fabric.
Rotary Cutting Curves with Inklingo
This short video about rotary cutting curves with Inklingo focuses on one of the Inklingo mystery quilts but all of the info applies to DWR and Pickle Dish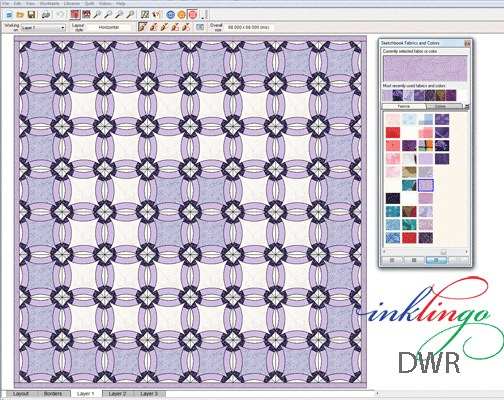 Free Electric Quilt Project File (EQ7) to Download

I hope you will be inspired by the 50 designs in the video and start designing with the free EQ project file.
Whether you make a traditional Double Wedding Ring or Pickle Dish or a modern quilt variation, there is inspiration everywhere, like Cathi's Quilt Obsession blog and Pinterest.
Winding Ways is a perfect way to teach techniques that are useful for ANY pieced design, including Double Wedding Ring and Pickle Dish. That is why I chose it for my new book. There is valuable information about fussy cutting and determining fabric requirements.
I hope it will be a go-to resource no matter what design you are piecing AND whether you use Inklingo or not.
You do NOT have to be an expert quilter with decades of experience to get exquisite results when you sew Double Wedding Ring by hand or by machine, so go ahead. Design a DWR.
I hope you find useful info in all three videos. It helps me if you click to LIKE my videos and share them with your friends.
Thank you for visiting.
Linda & Monkey in Canada