Sunset Glow or "Rougeur du Couchant"  
It does glow, doesn't it?
This is just one of 17 luscious designs in Willyne Hammerstein's second book, Millefiori Quilts 2.
When I was sewing my first Sunset Glow block, I thought of at least Ten Advantages of using Inklingo to make this design.
1. A choice of Inklingo sizes for this wonderful design!
The shape collections—diamonds and hexagons—have been available for many years and are available in MANY sizes, so you might already have them.
Willyne made the original with 3 cm shapes (1.18 inch), so 1.25 inch is the closest size.
You might already have matching sizes of diamonds and hexagons. You can confirm what you have by logging into your account on the website.
How to choose? I used 1.5 inch diamonds and hexagons.
(1) The size is perfect for fussy cutting the flowers in the black fabric. (Use a window template.)
(2) It is a perfect size for hybrid piecing—some by machine, some by hand.
(3) The quilt will be a bit bigger.
I plan to machine piece the stars (yes!) and chain piece the black & white diamonds into pairs to get a fast start and then I have a portable project with lots of relaxing continuous stitching.
2. Inklingo "shape collections" include the related parts.
Two shape collections with matching sizes include all of the shapes you need, as shown on page 52 of Millefiori Quilts 2.
In this example, the diamond shape collection includes the half and quarter diamonds (aka triangles).
3. Inklingo shapes are named with the finished size.
All you need to know is the finished size and that makes everything easy.
For example, 1 inch hexagons work with 1 inch diamonds. (The same works for triangles, octagons—any shapes.)
With 3 cm shapes the center of the quilt (before borders) is approximately 43 x 58 inches.
With 1.25 inch shapes, it is approx 45 x 61 inches.
1.25 inch 60 Diamond
1.25 inch 60 Hexagon
With 1 inch shapes, it is approx 36 x 49 inches, which is a nice lap size.
1 inch 60 Diamond
1 inch 60 Hexagon
With 1.5 inch shapes, it is approx 55 x 74 inches. (With 0.75 inch shape collections, the quilt is half that size.)
1.5 inch 60 Diamond
1.5 inch 60 Hexagon
All of the matching diamond and hexagon sizes are listed on the website.
4. With Inklingo, you can sew by hand or by machine or both!
This design offers opportunities for chain piecing by machine AND continuous stitching by hand, so you can have the best of both worlds.
Chain piece to get a fast start and then sew by hand when you need a portable project. We call it a "hybrid."
5. It presses beautifully!
Every intersection can be pressed clockwise or counterclockwise across the whole quilt top, so it looks its best from the front and is easier to quilt. (Never press seams open.)
Pressing is illustrated in the Hexagon Quilt Design Book, which you have if you have any Inklingo hexagons. (Inklingo Design Books are free with the related shapes. "Shape collections" have the shapes and "design books" have the instructions.)
6. Inklingo provides a choice of layouts.
There are layouts designed for rotary cutting OR scissors and layouts with different straight grain for directional fabric and stripes.
There are layouts with seam allowances and without seam allowances.
Inklingo shape collections always include the shapes with AND without seam allowances, so you can print templates for EPP or fussy cutting too! (Paper Pieces to Print)
7.  Inklingo ia perfect for using up scraps.
Every one of the star blocks in Willyne's quilt is different. She used many different reds and a great variety of textures and designs. The red "path" provides unity and a place for the eye to rest.
8. Inklingo shape collections include diagrams showing how much fabric you need.
That is fabulous for a quilt like Sunset Glow because you can easily determine whether the scraps in your stash are enough.
9. TWO methods of Fussy Cutting with Inklingo
Print on freezer paper for traditional templates or print identical sheets of fabric for "no waste fussy cutting."
Freezer paper templates are better than acrylic too.
10. With Inklingo, you can have a finished quilt on the bed in less time. (Photo courtesy of Quiltmania.)
The preparation is faster when you print the shapes on fabric with Inklingo. Finish faster—whether you sew by hand or by machine.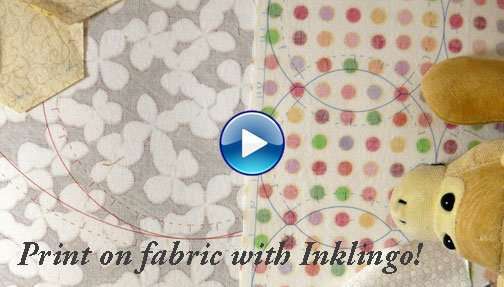 This video gives an overview of printing on fabric.
Start with free shapes! Main Beginner's Page
The assembly diagrams for Sunset Glow are in Millefiori Quilts 2—with 16 other glowing designs by Willyne.
I hope you enjoy sewing Willyne's designs as much as I do. Thank you for visiting.
Linda & Monkey