I am interrupting our regularly scheduled program (Modern Baby Quilt) with some fun news!
The big brown truck delivered Stonehenge Starry Night to our house! It is better than getting chocolate from the Easter Bunny!
Northcott is sponsoring the fabric that I send with book orders to new Inklingoists! Thank you, Northcott!
Northcott Fabrics make cottons that feel like silk. Just touching the fabric makes it impossible to resist.
Patti Carey at Northcott offered me a choice, so I asked for dark fabric.
Stonehenge Starry Night is lovely. It is a rich, dark color on the front and much lighter on the back, which is typical with cotton fabric.
I suggested a dark fabric because before they actually try Inklingo, many quilters imagine that you can only print light fabrics.
Not so!
Even dark fabrics are often light enough on the wrong side to see the lines. I print a Test Page first to see which of the 20 ordinary Inkjet ink colors used by Inklingo would be the best.
One of the Top Ten Tutes (tab above) is about printing on dark fabric.
.
Last night I "watched" some March Madness with Russ. I am not a big fan of the squeaky shoe show, so I set up the ironing board in front of the TV and ironed sheets of freezer paper to Starry Night.
Hot dry iron, trim around the FP with shears as I go. Zip. Zip. Zip.
After an hour or so I had about 50 sheets of fabric ready to print.
I could have done more, but some of the game highlights were irresistible and then there was another show I wanted to actually watch, so I turned off the iron. LOL
This morning, I put a stack in the printer and they all printed while I was writing this article for the blog.
The lines don't photograph well (click for a larger view), but I can see the lines well enough to rotary cut the rows and then cut the shapes apart.
I also print some info on the Freezer Paper. (Click for full size.)
I print these samples with the "combo" layout from the free Diamond Triangle Square shape collection. It introduces the idea of a Custom Page Size (6.75 x 9.75) to use fabric efficiently.
Printing a Custom Page Size is one of the 3 Key Ideas that make Inklingo work.
If you print the same shapes on a contrasting fabric, you have enough shapes for two mirror image LeMoyne Stars.
(There are so many cool things about Inklingo. I love the combos!)
There is even a one-page guide showing how to sew stars by machine.
Of course, the stitching lines are printed on the fabric too, so you can also sew these stars by hand with a running stitch—maybe during the Masters this week.
The Masters is my favorite tournament of the year but there is plenty of time to sew between shots. I love sewing and watching golf on TV.
If you haven't tried Inklingo yet, it's time to print on fabric with the free shapes.
ARE YOU SUBSCRIBED?
I will write more next time about the Modern Baby quilt design you can make with the new Inklingo for Quilted Diamonds shape collection. Please subscribe (top of right sidebar), so you don't miss anything.
In the meantime, I share photos on the Inklingo Facebook page too. If you are on Facebook, please "like" and "comment" and "share" my photos. It helps.
Russ will be delivering book orders to the Post Office in Niagara Falls NY early tomorrow morning. (USPS is open on Easter Monday!) Some of the orders will include this great fabric.
Thank you, Northcott Fabrics and thank you for visiting. See you again soon?
Linda & Monkey

New to Inklingo? Order and download free shapes and start sewing in the next few minutes. Quick Start (Always FREE.) There are triangles, diamonds, and squares in the free collection—great for dozens of different blocks.
$10 Coupon!  8 Year Anniversary Special on the handbook
25 Signs YOU are an Inklingo Quilter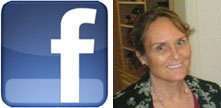 I will be sharing more photos on the Inklingo Facebook page too, but Facebook only shows my photos to about 20% of the quilters who have "liked" the page, so the best way to stay up to date is to subscribe to the blog (top of right sidebar).