I find Moda's charms (and Monkey) irresistible, especially in the pretty tins. (No affiliation.) It is fun to have a swatch of every design in a whole line of beautiful fabric.
It's time to take this tin off the shelf and print some Clamshells!
I'm using the new 4 inch Clamshells because they fit on 5 x 5 inch charms.
STEP 1 – WASH THE CHARMS
We got a beautiful new kitchen sink this summer and it is the first time I have washed charms in it.
I never make a quilt with fabric that has not been washed.
There is another article explaining WHY I always wash fabric and the simple procedure of washing and folding the fabric (no ironing). It is one of the Top Ten Tutes on the All About Inklingo blog (tab above).

Even if I am not printing the fabric with Inklingo, I only use fabric that has been washed.
Washing the fabric also makes it is easier to get a good bond between the fabric and the freezer paper to avoid jams in the printer.
All fabric that comes into the house is washed right away. (Exception for whole bolts, which I wash a few yards at a time.)
UNDERSTANDING FABRIC SHRINKAGE
I placed the unwashed swatch of fabric on the piece of orange paper and drew around it. I made a note, so I could put it down with the yellow flower in the same position after washing.
As you can see, it distorted in both directions.
This is cotton fabric from Moda. It is very high quality but the manufacturing process almost guarantees that there will be more shrinkage in one direction than the other. You can expect this to happen with any quilting fabric.
When there is this much shrinkage/distortion over a scrap this small, imagine how much there is across the whole width of fabric! It would shrink more than an inch!
In a bed quilt, the shrinkage/distortion would be more than 2 inches—even worse when some Clamshells shrink in one direction and some Clamshells shrink in the other.
I want to be confident that whenever my Clamshell quilt is washed, it will still look great.
I do not want to put my time and effort into fabric that will shrink unevenly, so I take a few minutes to rinse and dry the charms.

Another added bonus is that quality fabric feels softer after washing and that makes it easier to sew curves. (Stiff fabric does not have as much give.)
It's fun seeing all the fabrics together too!
Normally, I wash fat quarters and yardage in the washing machine with regular detergent and clothes, as described in the Top Ten Tute mentioned above.
You can put scraps and charms in a lingerie bag and wash in the washing machine too.
However, for Charms, Jelly Rolls & other pre-cuts, I find it faster to just rinse in the kitchen sink with warm water and a drop of liquid detergent.
Swish for a few minutes. Then squeeze out the excess water in a towel, and put in the dryer for less than 5 minutes, removing when they are still slightly damp. Finish the drying process by ironing. (I do it just before pressing the charms to the freezer paper in the next steps. Stay tuned, okay?)
The whole process took less than 15 minutes and gave me confidence that the finished quilt will not be spoiled when it is washed.
An added bonus of washing in the sink is that if any of the colors (especially reds) are going to bleed, I will see it right away. (These didn't, so that's all good.)
TIP You will probably want to have a lint roller handy to pick up all the crumbs from the pinked edges.
STEP 2 – PRINT THE TEST PAGE
There are TWO reasons to test.
To see how well the 20 Inklingo colors wash out when printed with your particular ink cartridges.
To see which of the 20 choices show well on a particular fabric. There may be several which are good.
With experience, you will become good at guessing for #2, but you must not guess about # 1.
When I printed the Test Page on one of the charms, all but Color 50 washed out completely.
If you are new to Inklingo, please follow the test procedure as described in another of the Top Ten Tutes (tab above).
.


Since my test showed that the ink would wash out,  I felt confident printing Color 21 on all of the charms.
Color 21 is a little darker than I absolutely need to see the cutting and stitching lines on some of the charms but it is helpful for photography. (I often print slightly darker than the minimum required, so the lines will show up better in photos.)
When I can use the same color for all of the fabrics, I can put a stack of fabric/FP in the printer and print 5 or 10 at a time before re-setting the dialog box.
You might have to use different colors on charms that are darker on the wrong side but it is simple and fast when one color shows up well on several fabrics.
STEP 3 – WILL YOU BE READY?
If you wash/rinse your charms and print a test page, you'll be ready for the next steps.
The new shape collections have been added on the Main Clamshell Page (under the Shop tab).
The special introductory sale price is only $10—but only if you buy before midnight on September 15, okay?
I'm using the new 4 inch Clamshells because they fit on 5 x 5 inch charms.
I am making a baby quilt with 42 charms and two other fabrics. Stay tuned for Monkey's Cheat Sheet and a worksheet.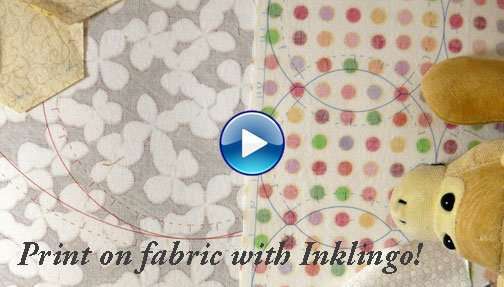 If you are new to Inklingo, there are step by step instructions and a new VIDEO on the Welcome to Inklingo page on the website.
ARE YOU SUBSCRIBED?
If you subscribe to the blog (top of right side-bar), you will be the first to see the next posts about printing on charms and Part 3 of Resources.
Are you following the Inklingo Facebook page too? I try to post something new every day. There are many photos of projects made by Inklingo quilters.

I'll see you again with Step 3 soon, okay?
Linda & Monkey

New to Inklingo? Order and download free shapes and start sewing in the next few minutes. Main Beginner's Page  There are triangles, diamonds, and squares in the free collection—great for dozens of different blocks.
$10 Coupon! 10 Year Anniversary Special on the handbook
25 Signs YOU are an Inklingo Quilter