La Tarantella is one of the beautiful designs in Willyne's third book, Millefiori Quilts 3.
Willyne is a genius! Her exciting designs keep getting better and better!
She also has a knack for naming her designs. "La Tarantella" refers to folk dances which are popular in southern Italy. The dances have a fast upbeat tempo. I looked it up on Wikipedia and found a dance video!
With Inklingo, you can print the shapes on fabric or on paper or freezer paper with a choice of layouts and sew by hand or by machine.
FAMILIAR SHAPES
&
NEW SHAPES !
You asked for them.
Quilters asked for the design to be made Inklingo-able, so they would have the option to sew with a running stitch or by machine in addition to English Paper Piecing.
NO ACRYLIC, NO PAPERS
As usual, if you have the Inklingo shape collection, you do not need acrylic templates or papers. Inklingo makes it less expensive AND makes the prep and sewing easier!
La Tarantella is made up of Interlocking rosettes, so it is similar to Passacaglia.
There are 7 shapes and 5 of them are identical to the ones in Passacaglia.
The two additional shapes give more variety to the interlocking rosettes.
The instructions for assembling La Tarantella are in the Millefiori 3 book.
RELATED INFO
There are articles in the archives and videos that apply to La Tarantella.
SEW WITH A RUNNING STITCH
Willyne teaches hand piecing with a running stitch (not English Paper Piecing, as I originally thought) and sewing with a running stitch is even faster and easier if you print the shapes on fabric with Inklingo. It speeds up the preparation, and printing the cutting and stitching lines on fabric with your Inkjet ensures accuracy.
VIDEO There is a video on the Main Millefiori Page (under the Shop tab) showing how to sew Passacaglia with a running stitch. It also applies to the other quilts.
FUSSY CUTTING
Another  article shows you why you can get better results without acrylic, using Patchwork of the Crosses as an example.
HYBRID PIECING The technique of combining hand and machine piecing for Celestial Star can be used for La Tarantella too.
4 NEW SHAPE COLLECTIONS – LOW INTRO PRICES
If you already have the Passacaglia shapes, you don't have to buy them again because there are "Add-On" shape collections in both sizes.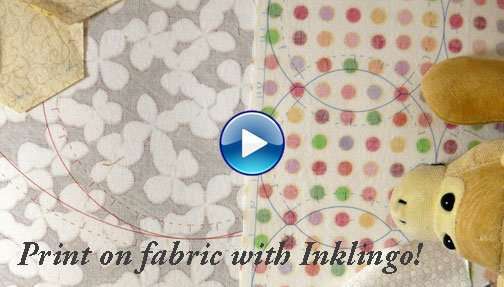 If you are new to Inklingo, please see the VIDEO on the Welcome to Inklingo page on the website to see how to print on fabric with your Inkjet printer.
ARE YOU SUBSCRIBED? 
it is a good idea to subscribe, so you don't miss anything.
The Silent Garden (also Millefiori Quilts 3) has been requested. Is there another quilt you would like to see in a new shape collection? Please let me know.
 book-on-paper
Millefiori Quilts 3 is at low intro price for a little while longer but it won't last forever, okay?
 I'll share a few tips for sewing La Tarantella next time.
I would love to see your rosettes!
Linda & Monkey