Quilters asked for more sizes of Yin Yang when I featured it with 6 inch Starry Path blocks on Facebook and Instagram.
Yin Yang is a wonderful take-along project. The curves in the new sizes are gentler than in the 6 inch Yin Yang.
New shape collections are ready for Yin Yang 8 inch and Yin Yang 9 inch.
I sew mine by hand. These curves are not easy to sew by machine but once the curves are sewn, the blocks can be assembled into rows by machine.
These new sizes work very well in settings with other Inklingo 8 and 9 inch blocks.
For example, Orange Peel with 8 inch Yin Yang. I could play with this one all day!
The 9 inch Yin Yang fits perfectly with the 30 inch Feathered Star.
Inklingo is all about making quilting more accessible.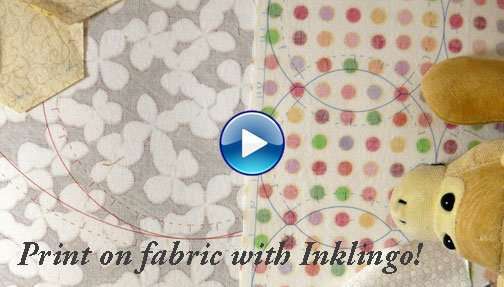 I always recommend starting with the FREE Diamond Triangle Square shape collection.
Print and play with the free shapes and browse the first chapter of The Inklingo Handbook (included), so you will be ready for ANY shapes—including the new Yin Yang.
LOW INTRO PRICE UNTIL MARCH 17TH
Inklingo makes quilting more accessible–and that means affordable too. These are $20 today, going up to $25 next week—still a fabulous deal!
OTHER LINKS YOU MIGHT LIKE
I am planning to show you more exciting settings for Yin Yang and some fussy cut examples, so please come back next time.
Thank you for visiting.
Linda & Monkey