Happy Valentine's Day!
Lucy Boston's Patchworks are featured in the April 2014 issue of The Quilt Life!
We're celebrating with a draw for a $50 Gift Certificate (below) and "the best is yet to come!"
It is a fascinating FIVE PAGE article by Diana Boston, Lucy Boston's daughter-in-law, with beautiful photography by Julia Hedgecoe.
Some of the photos in The Quilt Life are familiar from Diana's book, The Patchworks of Lucy Boston, and from my book, Lucy Boston Patchwork of the Crosses.
Lucy Boston gives hope and inspiration to any artist or quilter—but especially those of us in our fifties and sixties.
Lucy Boston made her most famous quilt, The Patchwork of the Crosses, when she was in her 60s. She was most prolific when she was in her 80s and continued to quilt in her 90s.
A LONG, CREATIVE OLD AGE, DESPITE LIMITATIONS
I cannot help but wonder how Lucy Boston's artistic expression might have developed without three limitations that we do not face today.
1. Limited availability of fabric
Lucy Boston's efforts to find suitable cotton fabric in England are described in letters in The Patchworks of Lucy Boston, one of my all-time favorite books.
Did you know that even though the war ended in 1945, sugar, meat and other food was still rationed in England until 1953-1954? Cotton fabric was in limited supply in the 1960s and 1970s too, before the revival of quilting in America. In our abundant world, it is hard to imagine.
Lucy Boston had a painter's eye and fabric was her palette but she lived at a time when only a very limited selection was available. Did it spur her creativity or limit her?
It's a great time to be a quilter! In the whole history of the world there has never been more beautiful cotton fabric available than there is now. What would she have been able to create with it!
2. Failing eyesight
The last 10 or 15 years of Lucy Boston's life were saddened by her failing eyesight. How tragic for an artist!
She tried using a magnifier and village children threaded needles for her after school. "Damn my eyes. I could keep my spirits up if I could see," Lucy wrote in a letter to her niece when she was in her nineties (POLB, page 5).
It's a great time to be a quilter! There have been breakthroughs in the treatment of glaucoma, cataracts, macular degeneration, diabetes and other age related causes of blindness in the past 50 years. If only there had been help for her! All of us have a better chance of keeping our sight even if we live to be 98, like Lucy Boston.
3. English Paper Piecing
Lucy Boston is famous and respected as an artist for her brilliant use of the designs in the fabric, not for her sewing method.
Joan in Australia was inspired by Lucy Boston to create stunning POTC blocks by hand (more in the albums on Inklingo Yahoo) but she sewed with a running stitch, not English Paper Piecing, and was able to finish blocks in a fraction of the time.
English Paper Piecing is the slowest, most difficult, and least precise method in my book, but that was the method used in England at that time.
American quilting methods were not well-known in Britain, and Lucy Boston learned to sew by mending quilts which had been made in the early 1800s.
She cut her own templates from brochures and Basildon Bond writing paper. What if she had spent that time designing and sewing instead of basting and whip-stitching? A key to her artistic vision was matching identical motifs, but they were hidden from her when she was sewing!
I will always believe that she had even more exciting designs dancing in her head as she sat by the fire on long winter evenings. (That's Maggie Smith sewing POTC in the movie From Time to Time based on one of Lucy Boston's children's books.)
We are grateful for the magnificent quilts, her delightful books, the impressive garden and the restored manor house, but I also think of "the lost quilts of Lucy Boston." How many more masterpieces would we be admiring when we visit Hemingford Grey if she had had a better, faster method?
It's a great time to be a quilter!  Even if we choose EPP instead of faster, easier methods, we can print freezer paper templates and the best of everything is readily available. (One of many EPP Tutorials)
We have many options. We can sew by machine or with a running stitch by hand to create her designs in a fraction of the time, with or without printing the shapes on fabric with Inklingo.
Fern in Singapore has finished a spectacular POTC quilt using Inklingo to print the shapes on fabric.
"I attempted and abandoned Lucy Boston's quilt some 12 years ago. Inklingo makes it easy-peasy to make a complex, exquisite and magnificent quilt. I am having so much fun with mine now."
THE BEST IS YET TO COME!

As the article in The Quilt Life explains, music and gardening were also passions of Lucy Boston. She had a large collection of classical recordings. During the Second World War, she regularly hosted musical evenings for RAF pilots in her ancient manor house, as described in Diana's book.
Given Lucy Boston's passion for music, it seems appropriate that I have a favorite song running through my head while I write.
It's not Lucy Boston's classical music, but she makes me think the best is yet to come.
I love the duet of The Best is Yet to Come by Tony Bennett (another famous, beloved octogenarian) and Diana Krall (a very talented Canadian jazz musician).
All quilters would choose to be as creative and artistic as Lucy Boston was in her sixties, seventies, eighties and nineties. Lucy Boston showed us how. She is our heroine.
We need to believe that the best IS yet to come for us.
THE QUILT LIFE
If ever there was a reason to subscribe to The Quilt Life, this is it!
If you do subscribe, please tell them Inklingo sent you. We want to encourage The Quilt Life and other quilting magazines to include more Inklingoable patterns, quilts and inspiration.
You can also follow The Quilt Life blog and The Quilt Life on Facebook.
Wouldn't you love to have this issue of The Quilt Life to keep with your POTC quilt? The Quilt Life's International Spotlight on Lucy Boston is important documentation to keep with an heirloom.
LEARN MORE ABOUT LUCY BOSTON

The All About Inklingo blog is also searchable. There are dozens of articles about Lucy Boston, her quilts, English Paper Piecing, fussy cutting, etc. (right sidebar).
REMINDER FROM MONKEY
The special intro price on Castle Wall ends Saturday night at midnight.
There is still time for your sweetie to buy it for you for Valentine's Day—or buy it for your self and have money left over for chocolate.
$50 INKLINGO GIFT CERTIFICATE
You could win!
Leave a comment to be in the draw for a $50 Inklingo Gift Certificate. The winner will be announced on the first day of spring, March 20.
Monkey says $50 buys a lot of Inklingo!
ARE YOU SUBSCRIBED?
You can subscribe (top of right sidebar) to receive an email every time we post a tutorial.
I hope you are feeling loved on Valentine's Day. Lucy Boston is certainly well-loved by quilters all over the world every day of the year.
"Whatever she touched, whether it was literature, horticulture, topiary, needlework or simple everyday life, bore the imprint of her unerring sense of beauty and quality." (Lucy Boston Remembered: Reminiscences Collected by Diana Boston)

What a legacy!
Happy Valentine's Day!
Linda & Monkey

New to Inklingo? Order and download free shapes and start sewing in the next few minutes. Quick Start (Always FREE.) There are triangles, diamonds, and squares in the free collection—great for dozens of different blocks.
$10 Coupon!  7 Year Anniversary Special on the handbook
25 Signs YOU are an Inklingo Quilter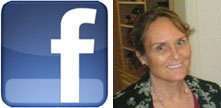 Have you liked the Inklingo FB page yet? If you haven't, please do. Thank you!