NEW STAR POINTS

Cathi at Quilt Obsession blew me away with stars made with the new Star Points!
These are tiny! The pink box (above) outlines 3.5 x 4 inches. The star will be even smaller when the outside seam allowances are sewn.
When she saw the new Star Points 0.5/1.0 inch shape collection, Cathi realized she had just the right fabric in her stash. (I bet she printed a window template with Inklingo.)
I was thrilled that Cathi gave me permission to share her photos here!
It is hard to believe all of the Star Points were printed on the same fabric.
She positioned the freezer paper on the fabric so she could print 6 identical sheets with the new Star Points 0.5/1.0 inch.

That gives her sets of 6 to use with hexagons. (60° Hexagon 0.5 inch)
"No Waste Fussy Cutting" with Inklingo is simpler than Stack n Whack™ but gives a similar result.
Each star is a wonderful little surprise.
Cathi already had hundreds of 60° Hexagon 0.5 inch printed with Inklingo, cut, and stored in a pretty project box.
Cathi is a big fan of miniatures, so I knew she would like the new star points, but these are amazing!
Cathi also updates the PDF version of the Index of Shapes whenever there are new shapes and she always remembers to leave a review on the website after she has tried a new shape collection. (THANK YOU!)
Cathi wrote:
"Inklingo really has made such a huge difference in my life. I know that were it not for you and Inklingo I would not still be quilting at all. But with Inklingo? It makes it SO easy to be creative. You release new shapes and I get design ideas that just don't stop!"
Cathi does a little bit of machine piecing with Inklingo but hand piecing is her true love, so these new Star Points are perfect for her.
Normally Inklingo shapes can be sewn by machine or by hand, but these are too itty bitty to be reasonable by machine, okay?
A CHOICE OF SIZES
You can get the same effect with the larger sizes.
These are Add-On shape collections, so you only pay for the shapes you plan to use.
There is also a Star Point on the Inklingo Shape Collection # 3 CD (0.75/1.5 inch).
There are already several articles about Star Points on the blog, so you can download and start sewing right away.
Cinema Paradiso is one of my favorite movies to re-watch while I am sewing.
Everything I see and do seems to have something to do with quilting, and it shows up on the Inklingo Facebook page.
We have been sharing photos, videos, and updates on Facebook two or three times a day.
If you have not seen them in your timeline, please go to the Inklingo Facebook page and click "Get Notifications" in the drop-down menu under the like button.
We love it when you "like" or even better—"share"—on Facebook.
If you have a FB account, you can post your own photos on the Inklingo Facebook page AND you can share mine on your timeline.
Even if you don't have a Facebook account, you can see anything I post on the Inklingo Facebook page—if you remember to look.
I hope you will join the fun and tap the "share" button too.
ARE YOU SUBSCRIBED?
Facebook is fun but the blog is still the best place for me to teach, so I hope you will subscribe (top of right sidebar).
You can see more of Cathi's stars on Quilt Obsession.
Cathi is a good friend and a constant inspiration to me. Inklingo brought us together. I think you will want to subscribe to her blog because she is always sewing something interesting!
If Cathi inspires you too, please let her know.
INTRO PRICE
As usual, the new Star Point shapes are at a very special intro price—but for a few days only.
Thank you for visiting here and on Facebook.
Linda & Monkey

New to Inklingo? Order and download free shapes and start sewing in the next few minutes. Quick Start (Always FREE.) There are triangles, diamonds, and squares in the free collection—great for dozens of different blocks.
$10 Coupon!  8 Year Anniversary Special on the handbook
25 Signs YOU are an Inklingo Quilter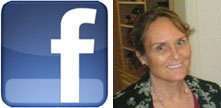 Have you liked the Inklingo FB page yet? AND chosen "Get notifications?"
If you haven't, please do. Thank you!