Do you recognize the designer of this quilt? I would love to know who came up with this simple, clever design.
I found the image on Pinterest, but the link was broken and there is no "watermark" indicating the source. (I put "inklingo" somewhere on most of my illustrations and photos, just in case someone pins without mentioning Inklingo.)
I was especially excited when I realized you can make this "ribbon quilt" with the shapes in the FREE Diamond/Triangle/Square shape collection.
With the free shapes, each block is 1.86 x 1.86 inches.
The whole design uses Quarter Square Triangles (QST with straight grain on the long side) and Half Square Triangles (HST with straight grain on the two short sides).
The free shape collection includes illustrations to show you how much fabric you need but this would be a fabulous way to use scraps too, don't you think?
The blocks are easy to sew by hand or by machine when you print the shapes on fabric with Inklingo. (Triangle Tips, free PDF, under the Machine Piecing tab on inklingo.com)
No measuring—a line to cut on—a line to sew on. Easy peasy!
It just depends on clever color placement and rotating the blocks 180 degrees.
When the sewing is this easy, you can spend more time playing with color.
Wouldn't this make a pretty baby quilt? Quick and easy and impressive!
Play with the fabrics in your stash to find an attractive combination.
OTHER SIZES
With LeMoyne Star 6 inch, each block is 2.5 x 2.5 inches.
With LeMoyne Star 9 inch, each block is 3.73 x 3.73 inches.
MANY other sizes can be made with Inklingo using matching sizes of QST and HST in Inklingo QST 00B and Inklingo HST 00B.
You can see all of the available sizes of QST and HST in the Inklingo Index of Shapes under the Support & Goodies tab on Inklingo.com.
ARE YOU SUBSCRIBED?
Thank you for visiting the blog. I hope you will subscribe (top of right sidebar), so you don't miss anything.
We're trying to train the chipmunks to ring the bell. Long story. LOL We post photos every day on the Inklingo Facebook Page, and you don't have to have a FB account to see what we post there.
I am getting my computer work done early today, so I can spend some time on the porch, sewing al fresco with the chipmunks.
I hope you are sewing today too.
Linda & Monkey

New to Inklingo? Order and download free shapes and start sewing in the next few minutes. Quick Start (Always FREE.) There are triangles, diamonds, and squares in the free collection—great for dozens of different blocks.
$10 Coupon!  8 Year Anniversary Special on the handbook
25 Signs YOU are an Inklingo Quilter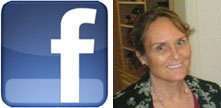 Have you liked the Inklingo FB page yet? AND chosen "Get notifications?"
If you haven't, please do!