Kathy in Nashville is the Queen of Fussy Cutting and we have a sneak peek at another amazing quilt in progress!
She fussy cut her stunning Dragonfly Diamonds (Quilted Diamonds) more than 10 years ago, and she has been fussy cutting with Inklingo from the very beginning in 2006.
We have featured some of Kathy's quilts on the blog in the past (click).
Now Kathy is building an incredible castle by printing on fabric with an ordinary Inkjet printer and the Inklingo Castle Wall shape collection.
The center octagon of Castle Wall (Beyer 295-1) can be just one piece, but the shape collection includes a bonus shape too, so you can use 8 triangles to make the octagon and get a fabulous Kaleidoscope effect, the way Kathy does.
With Inklingo we usually print the shapes with seam allowances on fabric, so we have a line to cut on and a line to sew on.
However, like all Inklingo shape collections, Castle Wall includes the shapes without seam allowances too, so you can fussy cut in the traditional way with templates or find the repeat in the fabric and print identical sheets of fabric with the shapes with seam allowances.
(Described for hexagons in an article on QuiltingHub)
Aren't these fabulous?
These are just a few of my favorites. I gasped when I saw them all.
Kathy is an artist with fabric. Some of her Inklingo quilts have been finalists at the AQS Show in Paducah and it's no wonder.
What a talent! Her workmanship is superlative too.
I will show a few of the blocks Kathy has sewn to go with these stunning Castle Wall blocks soon.  In the meantime. . .
. . . More Castle Wall?  If you just can't get enough!
There are also several other articles about sewing and pressing and designing with Castle Wall on this blog (searchable). Check the Topic Categories in the right sidebar.
ARE YOU SUBSCRIBED?
Thank you for visiting the All About Inklingo blog. Please subscribe (top of right sidebar), so you don't miss any Inklingo news.
We are posting photos every day on the Inklingo Facebook page. Our Japanese Anemones were blooming and I showed blocks I sewed with the next new shape collection.
You don't have to have a Facebook account to see what we post there. If you do visit us on Facebook, you already know there will be a new shape collection this week. Stay tuned, okay?
Thank you, Kathy, for allowing me to feature your blocks here. You are an inspiration to me.
See you on Facebook?
Linda & Monkey

New to Inklingo? Order and download free shapes and start sewing in the next few minutes. Quick Start (Always FREE.) There are triangles, diamonds, and squares in the free collection—great for dozens of different blocks.
$10 Coupon!  8 Year Anniversary Special on the handbook
25 Signs YOU are an Inklingo Quilter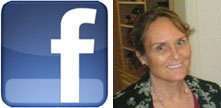 Have you liked the Inklingo FB page yet? AND chosen "Get notifications?"
If you haven't, please do!